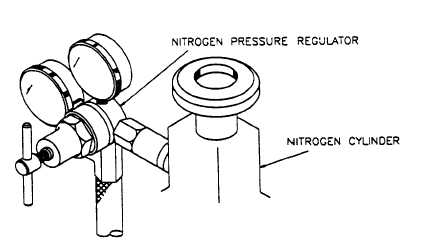 TM 5-4210-218-13&P
ì

 

 

Do  not  leave  the  winch  unattended  with  a  suspended  load.    Equipment  failure
and serious injury to personnel may result.
CAUTION
The    'clicking'    sound    audible    when    lifting    loads    indicates    that    the    brake    is
functioning properly.  If the clicking sound stops while the handle is being turned
clockwise,  slowly  lower  the  cylinder  by  turning  the  handle  counterclockwise.    Do
not operate the winch until the ratchet has been repaired or replaced.
c.
Turn the handle clockwise to lift the cylinder.  If you release the handle, the brake will hold the load.
NOTE
To disengage the brake, turn the handle clockwise far enough to hear two 'clicks'.
The     brake     will     engage     only     when     the     handle     is     turned     rapidly     in     the
counterclockwise direction.
d.
Lower  the  Halon  cylinder  with  valve  upright  onto  the  tilt  rack  assembly  (or  lower  the  nitrogen  cylinder  onto  the
designated position on the base assembly) by slowly turning the winch handle counterclockwise while guiding the
cylinder into the desired position.
e.
Disengage the spring hook from the lifting harness D-rings.
f.
Secure the Halon cylinder to the tilt rack assembly using the tie down straps attached to the tilt rack.  Secure the
nitrogen cylinder to the scale frame assembly using the straps attached to the nitrogen bottle support.
g.
Remove the safety caps from the cylinders.  Store the safety caps in the tool box.
h.
Connect the nitrogen pressure regulator to the nitrogen cylinder.
Figure 2-5.  Nitrogen Pressure Regulator Installation.
2-14