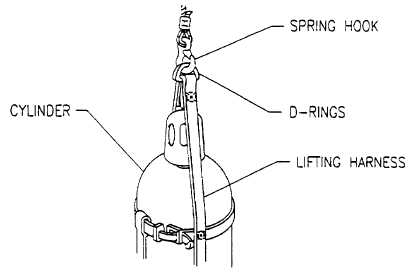 TM 5-4210-218-13&P
Figure 2-3.  Winch Cable
b.
Securely hook the spring hook to the O-rings on the lifting harness.  Use item 7, Appendix D, to lift Halon cylinder
and item 8, Appendix D, to lift nitrogen cylinder.
Figure 2-4.  Lifting Halon or Nitrogen Cylinder
WARNING
ì

   

The  winch  is  not  designed  to  lift  humans  and  should  not  be  operated  when
there are persons positioned on the load being moved.
ì

   

Do  not  lift  loads  in  excess  of  600  lb.    (272  Kg).    Equipment  failure  and  serious
injury to personnel may result.
ì

 

 

Do  not  guide  the  cable  with  your  hands  when  operating  the  winch.    Serious
injury may result.
2-13