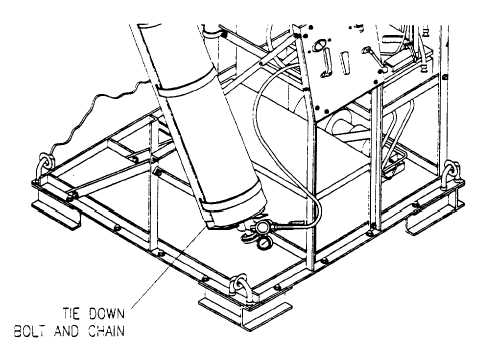 TM 5-4210-218-13&P
i.  Use the tilt rack to invert the Halon cylinder.  Connect the snap end of the tilt rack lock down chain to the eyebolt to hold
the tilt rack in the inverted position.
Figure 2-6. Halon Cylinder Inversion.
2-7.  

SYSTEM

LEAK

TEST

.
a.
Insure that all valves are in the closed or OFF position.
b.
Disconnect the nitrogen hose from the elbow on the HALON / nitrogen valve.
c.
Attach  nitrogen  hose  to  the  test  adapter.    The  test  adapter  is  located  in  the  tool  box  and  consists  of  a  quick
disconnect plug and a reducing connector to fit the nitrogen hose.
d.
Connect the test adapter to the Halon hose.
e.
Set  the  outlet  pressure  gauge  on  the  nitrogen  pressure  regulator  to  400  psi  by  turning  the  adjustment  screw
counterclockwise.
f.
Open the nitrogen supply cylinder valve.
CAUTION
If   inlet   pressure   gauge   on   the   control   panel   reading   exceeds   500   psi.      close
nitrogen  supply  cylinder  valve,  release  pressure  from  the  system  by  opening  the
extinguisher  hose  ball  valve  and  readjust  the  nitrogen  pressure  regulator  outlet
pressure gauge.  Repeat step f.
2-15