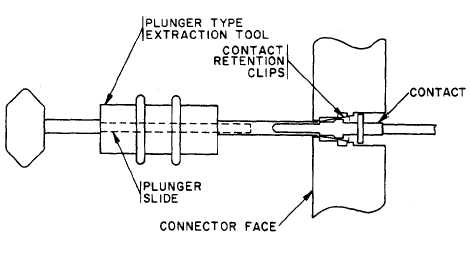 TM 9-254
6-9.
Solderless Connectors - Continued
Figure 6-14.  Crimping Requirements for Solderless Connectors
6-10.
Connector Contact Pins
a.
General
.  Multi-pin connector plugs vary according to the manufacturer and their intended use.  The following
will describe how to remove and install the most commonly used connector contact pins.
b.
Removal
of
Front
Release
Connector
Contact
(fig
.
6
-
15)
.
(1)
Select the correct extraction tool according to the type of pin to be extracted.
CAUTION
The tool must be held in a straight line, parallel to the contact and square to the connector face.
To avoid damage to the tool or the connector, do not tip, spread, or rotate the tool while over the
connector contact
NOTE
The plunger slide must remain in the retracted position as the removal tool tip is inserted into the
connector.
Figure 6-15.  Removal of Front Release Connector Contact
6-11