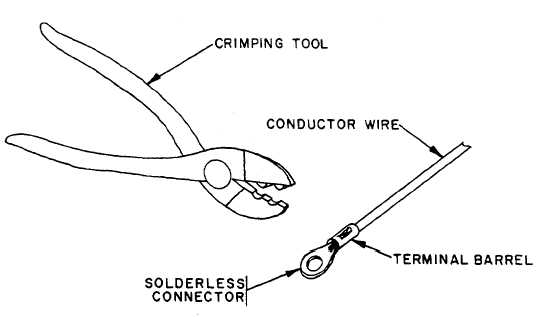 TM 9-254
6-9.
Solderless Connectors Continued
d.
Installing
Solderless
Connector
(fig
.
6
-
13)
.  The proper method of connecting wires to solderless connectors
is as follows:
(1)
Slide conductor wire into terminal barrel as shown in figure 6-12.
NOTE
Crimping tools are sized according to the size of wire connector being crimped.  Always use the
proper size crimping tool
(2)
Place terminal barrel into crimping tool jaws and squeeze the handles of the crimping tool firmly so that
the crimping tool causes a depression in the terminal barrel.
(3)
Release pressure on the handles and remove crimped terminal from the crimping tool.
Figure 6-13.  Crimping a Solderless Connector
e.
Crimping
Requirements
(fig
.
6
-
14)
.    Inspect  the  connector  for  acceptable  crimping.  T  he  crimp  must  not
extend to the edge of the connector barrel.  The connector barrel must not be cracked or distorted.
6-10