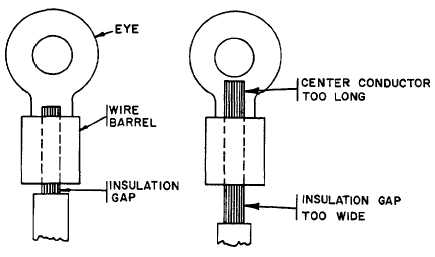 TM 9-254
6-9.
Solderless Connectors - Continued
Figure 6-11.  Insulated Solderless Connector
c.
Uninsulated Solderless Connectors (fig. 6-12).  When uninsulated solderless connectors are used, observe
the following requirements.
(1)
The center conductor of the wire fits snugly in the barrel with the end of the center conductor extending
beyond the barrel but not beyond the outer circumference of the eye portion.
(2)
The insulation gap between the uninsulated connector and the conductor insulation should not exceed a
distance that is equal to the diameter of the conductor, including the insulation.
Figure 6-12.  Uninsulated Solderless Connector
6-9