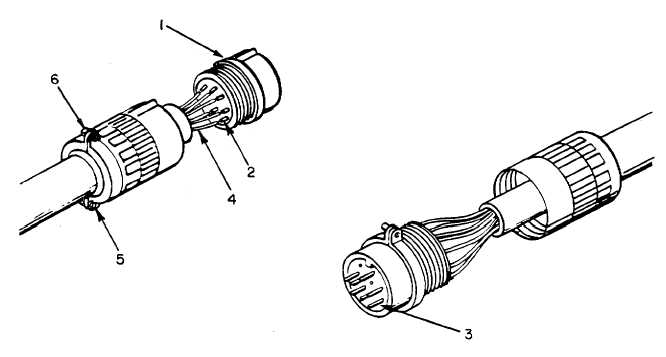 TM 9-254
6-8.
Connector Maintenance - Continued
(3)
If solder wells or contacts (2) are cracked, bent, or corroded; clean, repair, or replace.
(4)
If wire ends or leads (4) are worn or torn; clean, repair, or replace.
(5)
If contacts (3) are dirty, clean with a swab dampened with alcohol.
(6)
Hold plug (1) tightly in one hand and screw shell (6) onto plug.
(7)
Using a flat tip screwdriver, tighten two screws (5) on shell (6).
Figure 6-10.  Straight Plug Connector
6-9.
Solderless Connectors.
a.
General
.  Wires connected to solderless connectors must be mechanically secure to insure positive electrical
contact. Solder coated wires may not be crimped in solderless connectors.  Select a connector which will accommodate
the wire and insulation properly.  The eye must be large enough to accommodate the terminal screw or stud.
b.
Insulated  Solderless  Connectors  (fig.  6-11).    When  insulated  solderless  connectors  are  used,  observe  the
following requirements.
(1)
The conductor insulation should seat against the shoulder of the wire barrel.
(2)
The end of the center conductor extends beyond the wire barrel but not beyond the outer circumference of
the eye portion.
6-8