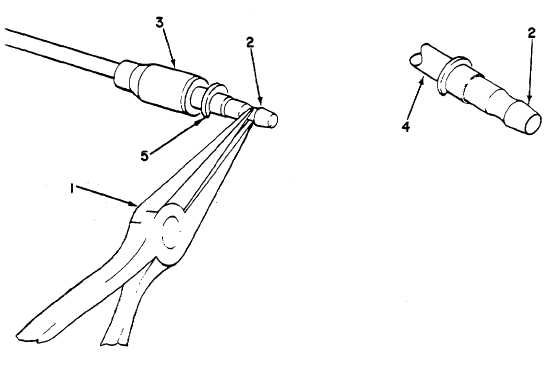 TM 9-254
6-8.
Connector Maintenance Continued
(2)
If contact (2) is cracked, bent or corroded; clean, repair, or replace.
(3)
If the crimping or solder is loose on contact (2), or if lead (4) is worn or torn; repair or replace.
(4)
If retainer (5) is missing, replace it.
(5)
If contact (2) is only dirty, clean with a swab dampened with alcohol.
(6)
Place contact (2) back in its shell (3) by sliding shell up over contact (2).
Figure 6-9.  Male Single Lead Connector
c.
Straight
Plug
Connector
(fig
.
6
-
10)
.  The following is a recommended maintenance procedure.
WARNING
To  avoid  electrical  shock  to  personnel,  make  sure  that  all  electrical  power  is  turned  OFF  when
cleaning, inspecting, and repairing electrical cables, contacts, and connectors
(1)
Using a flat tip screwdriver, loosen two screws (5) on shell (6).
(2)
Hold plug (1) tightly in one hand, unscrew shell (6), and pull shell back.
6-7