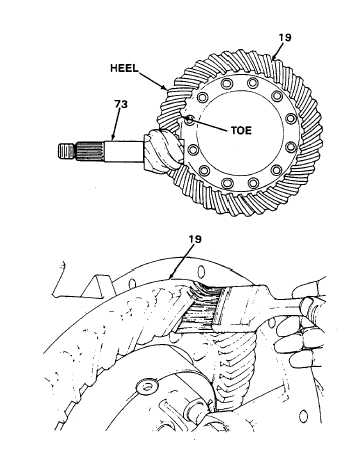 TM 5-4210-233-14&P-1
5-43.  FORWARD TANDEM AXLE AND DRIVE UNIT-

Continued
(42)
Check tooth contact patterns of gear set.
(a)   Movement of the contact patterns along
the length of the tooth is indicated toward
the "heel" or the 'toe" of the ring gear (19)
teeth. Always check the tooth contact
patterns on the drive side of the teeth.
(b)   Apply a marking compound such (Item 56,
Appendix E) blue to approximately 12 gear
teeth of the ring gear (1 9). Rotate the ring
gear so that the marked teeth are next to
the drive pinion.
(c)   Rotate the ring gear (19) forward and
backward so that the marked gear teeth
engage the drive pinion (73) six times to
get the contact pattern. Repeat if needed
to get a clear pattern.
(d)   The thickness of the shim pack (80) between the inner bearing cup (79) and the differential
carrier governs the tooth contact pattern.
NOTE
A   high   contact   pattern   indicates   the   drive   pinion   (73)   is   not
installed  deep  enough  into  carrier.  A  low  pattern  indicates  the
drive pinion is installed too deep in the carrier.
(e)   To gain access to the shim pack (80), refer to paragraph b. Disassemble and remove the drive
pinion (73), inner bearing up (79) and shim pack (80) from carrier.
(f)
To correct a high contact pattern, increase the thickness of the shim pack (80).
5-312