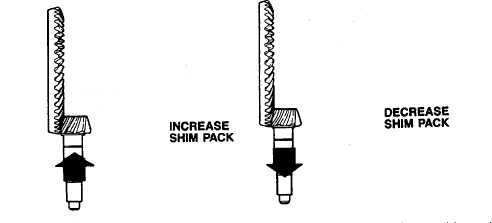 TM 5-4210-233-14&P-1
5-43.  FORWARD TANDEM AXLE AND DRIVE UNIT-Continued
(g)   To correct a low contact pattern, decrease the thickness of the shim pack (80).
(h)   After changing shim packs (80) as necessary, assemble differential assembly as described above.
(43)
Adjust backlash of ring gear (19) to also correct the contact patterns and described above.
(44)
Install lock pins (54) to secure adjusting rings in position after final adjustments have been
completed.
(45)
Install the spring (46) and shift fork (47) in position in the differential carrier housing (5).
(46)
Install the shift shaft (45) in the carrier, with small end of shaft through spring (46) and shift fork
(47).
5-313