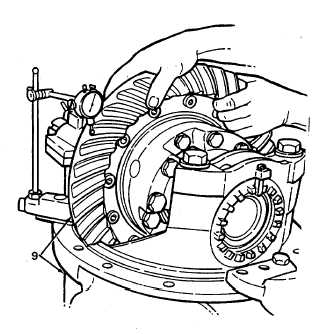 TM 5-4210-233-14&P-1
5-43.  FORWARD TANDEM AXLE AND DRIVE UNIT
(41)
Adjust backlash of ring gear (19).
(a)   Attach a dial indicator on mounting flange
of differential carrier assembly (9).
Adjust dial indicator so that indicator
plunger is against a tooth surface.
(b)   Adjust the dial indicator to zero.
(c)   Hold the drive pinion (73) in position. Rotate
the ring gear (19) a small amount in both
directions against the teeth of the drive
pinion (19). If backlash reading is within
specifications shown below continue with
checking tooth contact patterns.
Backlash range (used gears) - 0.008 to
0.018 inch (0.020 to 0.46 mm).
Backlash range (new gears) - 0.012 inch
mm).
(d)   Adjust backlash by using bearing adjusting rings (55). Loosen one adjusting ring (55) one notch
and tighten opposite adjusting ring the same amount. Check backlash. Continue adjusting with
rings (55) until correct backlash is achieved.
(e)   Record the backlash setting for use when adjusting preload of the pinion bearings (76 and 81).
5-311