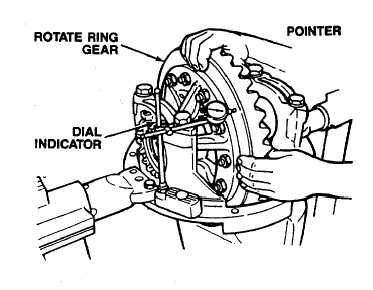 TM 5-4210-233-14&P-1
5-43.  FORWARD TANDEM AXLE AND DRIVE UNIT-Continued
(c)   Tighten adjusting ring (55) to reduce end play. No end play should appear. Move the
differential to the left and right as needed.
(d)   Tighten each adjusting ring (55) one notch from the zero end play measured in Step (c). The side
bearings of the differential now have a preload of 15 to 35 lb in (1.7 to 3.9 Nm).
(e)   Continue to check runout of ring gear and adjust as necessary.
(40)
Check runout of ring gear as follows.
(a)   Attach a dial indicator to the mounting
flange with plunger against surface of
ring gear (19).
(b)   Adjust the dial of the indicator to zero

.
Rotate the differential and ring gear
assembly (82) and read the dial indicator

.
(c)   Check the runout.  Runout must not
exceed 0.008 inch (0.200 mm).
(d)   If the runout exceeds specifications,
refer to disassembly step b. (26) (35)
and remove the differential assembly.
(e)   Check parts for possible interference

or
problems that could cause excess

runout.
Replace parts as necessary and

assemble
differential assembly (see step d. (22-40).
5-310