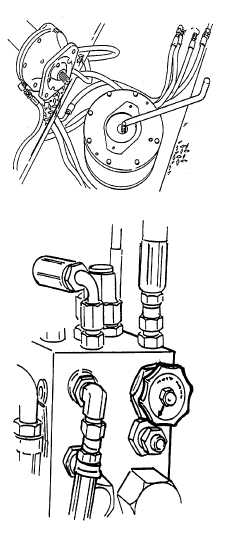 TM 5-4210-233-14&P-1
2-15.  EMERGENCY AERIAL PROCEDURES - Continued
c.
Rotating
Ladder
Turntable
.
WARNING
The   ladder   must   be   secured   to   prevent
rotation    of    turntable    in    either    direction
before     the     hydraulic     motor     and     brake
assembly  are  removed.    This  prevents  the
ladder   from   rotating   out   of   control   when
brake is removed.  The guy ropes should be
placed   on   the   lower   chords   of   the   ladder
sections.
(1)
Secure ladder with guy ropes to prevent turntable
rotation when brake is removed.
(2)
Remove the hydraulic motor and brake assembly
from planetary drive.
(3)
Use the hand crank provided (located under the
ladder control panel) to align ladder with bed locks.
NOTE
Be  sure  to  position  ladder  in  line  with  bed
locks;  ladder  cannot  conveniently  be  lifted
manually.
d.
Lowering
Ladder
.
(1)
Turn the black knob on the hydraulic hoist manifold
block, located under the step at the base of the
aerial ladder.  Turn the knob counterclockwise.
This will slowly lower the ladder.
(2)
To stop lowering the ladder, tighten the black knob.
e.
Raising
Outriggers
.
(1)
Remove cover on each jack stand.  Loosen the two
bolts slowly and evenly, one revolution at a time.
This breaks the seal on the cylinder inlet and allows
oil to be released.
(2)
The outriggers can now be lifted manually.
(3)
Tighten the two bolts.  This will keep the outriggers
raised after a vacuum forms in the cylinders.
NOTE
The   outriggers   can   be   manually   retracted   by   engaging   the
hydraulic   valve   and   pushing   in   the   corresponding   outrigger
beam.
2-62