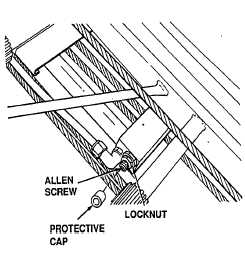 TM 5-4210-233-14&P-1
2-15.  EMERGENCY AERIAL PROCEDURES - Continued
b.
Using
Emergency
Hydraulic
Pump
.
(1)   Move SYSTEM LOCK lever to RUN position.
CAUTION
To avoid damaging emergency hydraulic pump, actuate desired
function before turning emergency hydraulic pump on.
Do   not   operate   emergency   hydraulic   pump   for   more   than   5
minutes  at  a  time.    Allow  motor  to  cool  for  1  minute  before
reactivating emergency hydraulic pump.
(2)   Engage desired hydraulic control lever.
(3)   Push HYDRAULIC EMERG.  POWER switch and hold (a maximum of five minutes) until hydraulic
function is completed.
(4)   Release HYDRAULIC EMERG.  POWER switch.
NOTE
If   the   main   hydraulic   pump   and   emergency   hydraulic   pump
malfunction,  provisions  have  been  made  to  allow  for  manually
lowering  ladder  and  retracting  outriggers.    See  para  (b  thru  e)
below.
The manual operation of the hydraulic functions is intended only
to permit transportation of the aerial ladder to repair facilities.
b.
Retracting
Ladder
Sections
.
(1)   On  the  aluminum  valve  block  located  on  top  end  of
the lower two extension cylinders, loosen the 3/4 inch
lock-nut and remove protection cap.  Turn allen screw
out
WARNING
To prevent possible injury, be certain all
personnel   are   clear   of   ladder   before
retracting ladder.
(2)   Move  EXTEND/RETRACT  hydraulic  control  lever  to
RETRACT position.  Ladder will retract.
(3)  Unless the ladder is elevated to a high angle, a rope
will have to be used to provide full retraction of ladder
sections.
2-61