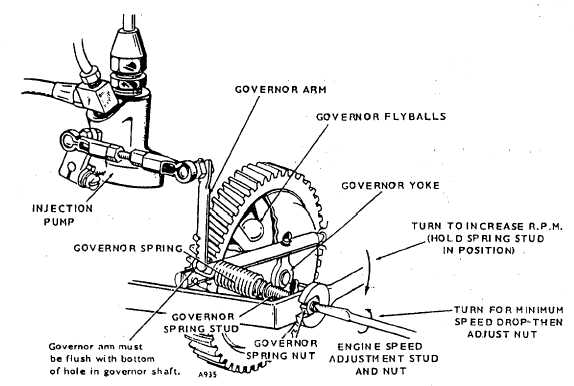 TM 5-4210-233-14&P-1
5-79.  APU GOVERNOR - Continued
d.
Adjustment
.
(1)
Adjust engine speed (rpm) by turning engine speed adjustment nut.  Use screw driver to prevent
stud from turning and turn nut clockwise to increase speed, counterclockwise to decrease speed.
(2)
Sensitivity (no load to full load speed drop) is adjusted by turning the sensitivity adjusting ratchet
nut accessible through hole in side of blower housing.  'If speed drops too much when full load is
applied,  turn  the  ratchet  nut  counterclockwise  to  increase  spring  tension  and  compensate  for
reduced rpm.  An over-sensitive adjustment, approaching no speed drop when load is applied may
result  in  a  hunting  condition  (alternate  increase  and  decrease  in  speed).    Adjust  for  maximum
sensitivity  without  hunting.    The  use  of  a  reed-type  frequency  meter  will  give  the  most  accurate
results.  A mechanical tachometer can be used on the generator thru stud, but this is not generally
as accurate.  It should be possible to adjust for a sensitivity of less than 3 cps, and 2 cps is usually
attainable.
(3)
After adjusting speed and sensitivity, secure speed stud lock nut and replace dot button in blower
housing.
e.
Follow
-
on
Maintenance
.
(1)
Install gear cover (see para 5-68).
(2)
Install APU (see para 4-207).
5-405