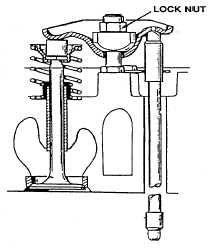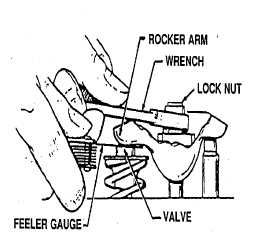 TM 5-4210-233-14&P-1
5-80.  APU VALVES
This task covers:
a.
Adjustment
b.
Follow-on Maintenance
TOOLS REQUIRED
EQUIPMENT CONDITION
Tool Kit, General Mechanics, Automotive
Rocker Arm Cover Removed (see para 5-72.)
(Appendix B, Section III, Item 1)
a.
Adjustment
.
NOTE
Check valve clearance when the engine is at room temperature,
about 70 deg. F (21 deg. C).
(1)
Turn     the     flywheel     until     the     cylinder     is     on     its
compression   stroke.      Use   a   socket   wrench   on   the
flywheel screw.
NOTE
To determine if the cylinder is in its compression stroke, observe
the action of the push rod as the engine is rotated in a clockwise
direction.    The  exhaust  valve  push  rod  will  be  in  its  lowest
position and the intake valve push rod will be moving downward.
As the piston reaches top dead center, the flywheel timing mark
should  be  aligned  with  the  timing  pointer  and  the  valve  push
rods stationary.
(2)
Now  turn  the  flywheel  clockwise  for  an  additional  10  to
45 degrees.  There is no timing mark for this position, so
it  must  be  estimated.    With  the  piston  located  in  this
position,  it  will  be  in  its  power  stroke  with  both  valves
completely closed.
(3)
Cylinder  head  bolt  torques  should  be  44-46  lb  ft  (60-62
N-m).  To change the valve clearance, adjust the locknut
which   secures   the   rocker   arm   to   the   cylinder   head.
Loosen  the  locknut  to  increase  clearance  and  tighten  it
to reduce clearance.
(4)
Check valve clearance with a feeler gauge between the
rocker   arm   and   the   valve.      Increase   or   reduce   the
clearance  until  the  proper  gap  is  established.    Correct
valve  clearance  is  0.01  1-inch  (0.28  mm)  intake  and
0.008-inch (0.20 mm) exhaust.
b.
Follow
-
on
Maintenance
.
(1)
Install rocker arm cover (see para 5-72).
5-406