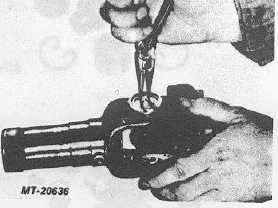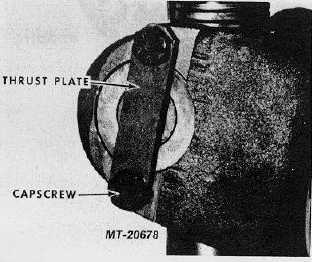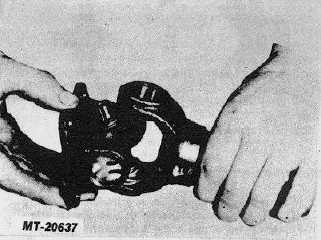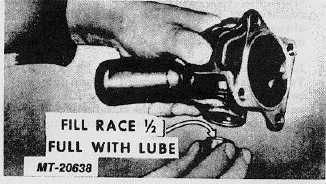 TRUCK SERVICE MANUAL
TM 5-4210-230-14&P-1
PROPELLER SHAFT
SERVICE INSTRUCTIONS
DISASSEMBLING UNIVERSAL JOINT
1.
SNAP  RING  Remove  by  pinching  the  ends  together
with a pair of pliers.  If a ring does not readily snap
out  of  the  groove  in  the  yoke,  tap  the  end  of  the
bearing cap lightly to relieve the pressure against the
ring (Fig.  24).
2.
THRUST
PLATE
CONSTRUCTION
(Fig.
25)
Remove  capscrews  and  plate.    The  balance  of,  the
disassembly and assembly instructions are the same
as those for snap ring joints.
3.
NEEDLE  BEARING  CAP  Remove  by  driving  on  the
end of one bearing cap until the opposite bearing cap
comes out.  Turn the joint over and tap the exposed
end   of   the   journal   cross   until   the   opposite   needle
bearing  cap  is  free.    Use  a  soft  round  drift  with  flat
face   about   .79   mm   .(1/32")   smaller   than   the   hole
diameter  in  the  yoke,  otherwise,  there  is  danger  of
damaging the bearing.
Fig.  24
Fig.  25
4.
JOURNAL CROSS -Remove by sliding it to the side
of the yoke and tilting it over the top of the yoke lug
(Fig.  26).
Fig.  26
ASSEMBLING UNIVERSAL JOINT
Reassembly   is   merely   reverse   order   of   the   above
operations.      On   joints   without   a   lubrication   fitting,   repack
reservoirs  in  the  journal  cross  ends  with  the  recommended
lubricant.    Make  sure  the  reservoir  in  each  trunnion  is  filled.
With  the  rollers  in  the  race,  fill  the  race  about  1/2  full  (Fig.
27).
Fig.  27
U-BOLT CONSTRUCTION
U-Bolt  joints  are  a  combination  of  U-Bolt  and  snap
ring   construction   (Fig.      28).      Except   that   the   U-Bolts   are
disassembled  when  the  complete  propeller  shaft  is  removed
from  the  vehicle,  the  balance  of  disassembly  and  assembly
instructions   are   the   same   as   those   for   snap   ring   joints.
CTS-2730  Page 15
PRINTED IN UNITED STATES OF AMERICA