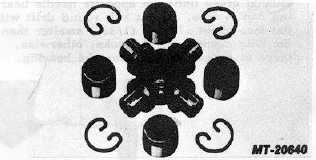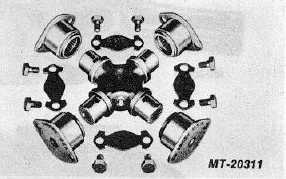 TRUCK SERVICE MANUAL
TM 5-4210-230-14&P-1
PROPELLER SHAFT
SERVICE INSTRUCTIONS
Fig.  28
CLEANING AND INSPECTION
1.
Clean  All  Parts  Use  a  suitable  cleaning  fluid.    Allow
the  parts  to  remain  in  the  cleaner  for  some  time  to
loosen  up  any  particles  of  grease  or  foreign  matter.
Remove     any     burrs     or     rough     spots     from     any
machined surfaces.
2.
Needle   Bearings   Do   not   disassemble.   Clean   with
short  stiff  brush  and  blow  out  with  compressed  air.
Work a small quantity of lubricant into each bearing
cap  and  turn  the  needle  bearing  on  the  trunnion  to
check wear.  Replace if worn.
3.
Journal  Cross  Because  worn  needle  bearings  used
with   a   new   journal   cross   or   new   needle   bearings
used with a worn journal cross will wear more rapidly
making   another   replacement   necessary   in   a   short
time;   always   replace   the   journal   cross   and   four
needle bearing caps as a unit.
4.
Journal   and   Bearing   Kit   (Figs.      29   and   30)   To
facilitate the replacement of journals and bearings, a
Journal and Bearing Kit is available.  The use of the
Kit  insures  having  the  correct  individual  parts  when
required and saves valuable time.
Fig.  29
Fig.  30
CTS-2730  Page 16
PRINTED IN UNITED STATES OF AMERICA