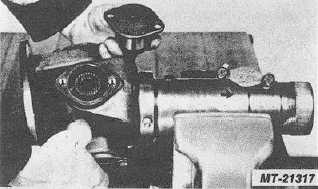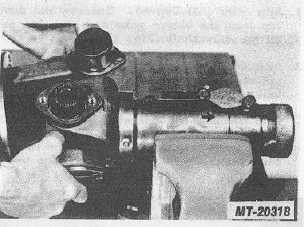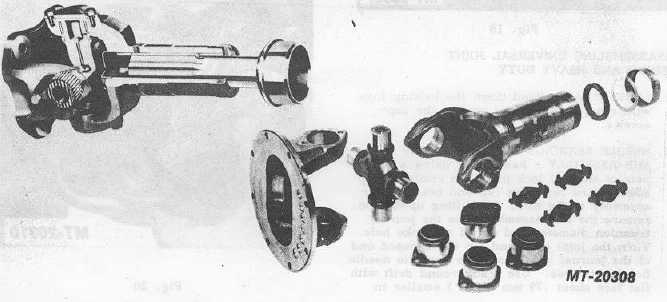 TRUCK SERVICE MANUAL
TM 5-4210-230-14&P-1
PROPELLER SHAFT
SERVICE INSTRUCTIONS
ASSEMBLING   UNIVERSAL   JOINT   MEDIUM   AND   HEAVY
DUTY (Figs.  21, 22 and 23)
1.
SEAL If necessary to install a new kit make sure that
four new seals are installed in the journal retainers.
Fig.  21
2.     JOURNAL  CROSS  With  the  relief  valve  facing  the
flange yoke, insert one trunnion of the journal cross
into the bearing hole in the yoke lug from the inside
between  the  lugs  and  tilt  until  the  trunnion  of  the
journal cross will clear the hole in the opposite yoke
lug.
Fig.  22
3.
NEEDLE   BEARING   AND   RETAINING   CAP   SUB-
ASSEMBLY  Insert  from  outside  of  yoke.    Press  into
place  with  an  arbor  press  or  tap  with  a  soft  round
drift taking care not to mar any surfaces.
4.
LOCK   STRAP   AND   CAPSCREWS   Assemble   and
bend the lugs of the lock strap up against the flat of
the  capscrew.    If  the  joint  appears  to  bind,  tap  the
lugs lightly to relieve any pressure of the bearing on
the end of the journal.
BEARING CAP CONSTRUCTION MEDIUM AND HEAVY DUTY
Fig.  23
CTS-2730  Page 14
PRINTED IN UNITED STATES OF AMERICA