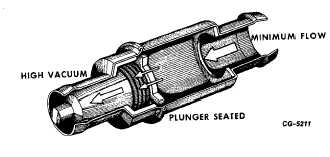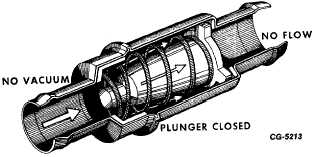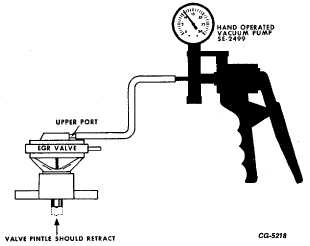 ENGINE DIVISION SERVICE MANUAL
TM 5-4210-230-14&P-1
idle, cruise, acceleration, etc.).  The valve itself consists of a
coil spring, valve and a two-piece outer body which is crimped
together.          The     valve     dimensions,     spring     and     internal
dimensions    are    such    to    produce    the    desired    air    flow
requirements.
During   the   periods   of   deceleration   and   idle,   manifold
vacuum is high.  The high vacuum overcomes the force of the
valve spring and the valve bottoms in the manifold end of the
valve  housing.  This  does  not  completely  stop  the  flow  but  it
does restrict (Fig.  46).
Fig.  46  Plunger Position During Idle or Low Engine Speed
When  the  engine  is  accelerated  or  operated  at  constant
speed,  intake  manifold  vacuum  is  less  than  at  idle  or  during
deceleration.    The  spring  force  is  stronger  than  vacuum  pull
during this mode so the valve is forced toward the crankcase
end of the valve housing. With the valve in this position, more
crankcase vapors flow into the intake manifold (Fig.  47).
Fig.  47  Plunger Position During High Engine Speed
In the event of a backfire, the valve plunger is forced back
and seated against the inlet of the valve body.
This   prevents   the   backfire   from   traveling   through   the
valve and connecting hose into the crankcase (Fig.  48).  If the
backfire was allowed to enter the crankcase, it could ignite the
volatile crankcase blow-by gases.
Fig.  48  Plunger Position During Backfire or When Engine is
"OFF".
14.   Remove and Check EGR Valve and Clean or Replace,
if necessary.  (V-345 and V-392 Engines Only)
a.
Remove EGR valve from engine.
Fig.  49  EGR Valve Test
b.
Apply   10-12"   vacuum   to   EGR   valve   vacuum   port
(upper port of dual diaphragm valve).  As vacuum is
applied, valve pintle should move off seat and retract
into   valve   housing   (Fig.      49).      If   valve   does   not
operate when vacuum is applied, valve is faulty and
should be replaced.
c.
Visually   inspect   valve   for   evidence   of   valve   pintle
(plunger)   not   seating   or   deposit   accumulation   on
pintle and seat.  Clean
CGES-215  Page 27
PRINTED IN UNITED STATES OF AMERICA