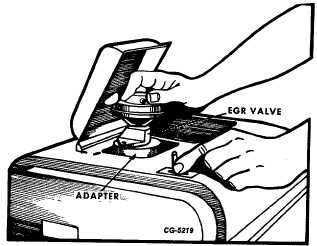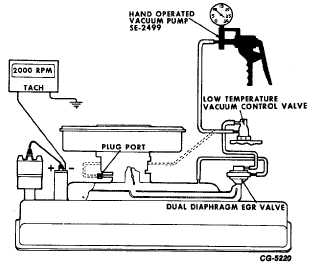 ENGINE DIVISION SERVICE MANUAL
TM 5-4210-230-14&P-1
deposits from pintle and seat, if necessary.
To clean deposits from pintle and seat of EGR valve, use
a   sand   blast   type   spark   plug   cleaner   and   the   following
procedure:
(1)
Prepare  spark  plug  cleaner  by  installing  rubber
adapter  with  22  mm  (7/8")  hole  over  cleaning
(blast) port.  Do not install metal adapter clamp
(Fig.  50).
(2)
Insert pintle of EGR valve through hole in rubber
plug cleaner adapter.
(3)
Holding  EGR  valve  tightly  down  adapter,  apply
sand blast to clean pintle.
CAUTION
Safety
goggles
should
be
worn
while
performing cleaning operation.
Fig.  50  Cleaning EGRH Valve
(4)
After cleaning exposed pintle, hold EGR valve in
both  hands  and  press  in  diaphragm  to  retract
valve  pintle  into  valve  housing.  Use  a  25  mm
(1")   long   bolt   (3/4"   long   for   dual   diaphragm
valves) to hold pintle in retracted position.  Apply
masking tape to cover outlet port of valve.
(5)
With pintle opening of valve aligned with hole in
cleaning  adapter,  hold  EGR  valve  down  tightly
against  adapter  and  apply  sand  blast  to  clean
interior of valve housing and valve seat.
d.
After  cleaning,  blow  all  excess  sand  from  interior  of
valve housing and remove bolt.
e.
Recheck valve for proper operation and seating.
f.
Replace with new valve, if necessary.
15.   Check EGR System with Functional Test and Clean or
Replace,   If   necessary.      (V-345   and   V-392   Engines
Only)
Perform EGR System Functional Test as follows:
a.
Operate   engine   until   it   reaches   normal   operating
temperature.
b.
Shut   off   engine.      Connect   tachometer.      Connect
vacuum  pump  with  vacuum  gauge  to  EGR  system
vacuum hose at carburetor.
c.
Plug fitting at carburetor.
d.
With   tachometer   installed,   operate   all   engines   at
2000 RPM.
e.
Apply    specified    vacuum    (see    Emission    Control
System Tune-Up Specifications).
Fig.  51  Complete EGR System Test
f.
See
Emission
Control
System
Tune-Up
Specifications for engine speed drop when vacuum is
applied.   This   procedure   checks   not   only   the   EGR
valve  but  the  intake  manifold  and  related  passages
as well.
CGES-215  Page 28
PRINTED IN UNITED STATES OF AMERICA