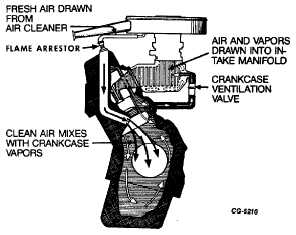 ENGINE DIVISION SERVICE MANUAL
TM 5-4210-230-14&P-1
engine   to   idle   and   observe   position   of   inlet   tube
damper.    If  damper  has  not  rotated  all  or  part  way
down   to   allow   some   cold   air   to   enter   inlet   tube,
replace temperature sensor.
Procedure for servicing the

thermal

pellet

type

air cleaner
is as follows: (Cargostar & S-Series Vehicles)
a.
With    the    engine    cold    and    ambient    under    hood
temperature   below   32   deg.      C   (90   deg.      F),   the
damper should be closed to the cold air inlet (open to
the hot air inlet).  This closed to cold air inlet can be
checked by looking in the end of the inlet.
b.
With  the  engine  at  operating  temperature  and  the
ambient  under  hood  temperature  above  57  deg.    C
(135 deg.  F), thermal pellet should open the damper
allowing cold air to enter the cleaner and at the same
time shut off the hot air inlet.
Fig.  44  Pellet Type Controlled Air Cleaner
c.
If the damper does not operate as described above,
reach in the inlet, move the damper open and check
to see if it is sticking. If damper is moving freely and
the linkage is connected, then the thermal pellet must
be at fault and should be replaced.
When replacing the thermal pellet

do

not

tighten the
pellet assembly with a tool.  Tighten finger tight only.
Use  locking  compound  on  the  threads  to  secure  in
place.   If  a  tool  is  used,  too  much  pressure  may  be
applied changing the calibration of the thermal pellet
and linkage assembly.
13.   Check PCV System Hoses and Replace, if necessary,
Clean PCV Valve, If necessary.
a.
Remove valve from crankcase side, leaving the other
end of the valve in hose and connected to intake manifold.
b.
With  the  engine  operating,  a  vacuum  should  be  felt
at the end of the valve.  If no vacuum is present, the
valve, hose and fitting should be removed and cause
of restriction determined.
c.
Check  the  inner  chamber  of  the  valve  to  see  that  it
can be moved freely.  This may be accomplished by
inserting    a    stiff    wire    into    the    valve    body    and
observing  whether  or  not  the  plunger  can  be  readily
moved, or shake the valve and listen for rattle.  If the
plunger does not move, soak in carburetor cleaner.
Fig.  45  Typical Air and Vapor Flow Through the System
13A.
Positive
Crankcase
Ventilation
Valve
(PCV)
Operation.
Since the vacuum supply for the PCV system is from the
intake manifold, the flow through this system into the manifold
must    be    controlled    in    such    a    manner    that    it    varies    in
proportion   to   the   air-fuel   ratio   being   drawn   into   the   intake
manifold.
The  PCV  valve  varies  the  amount  of  flow  through  the
system according to the various modes of operation (i.e.
CGES-215  Page 26
PRINTED IN UNITED STATES OF AMERICA