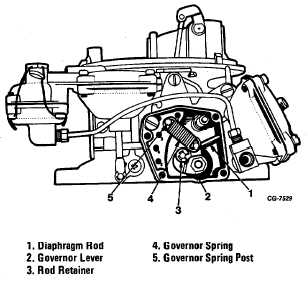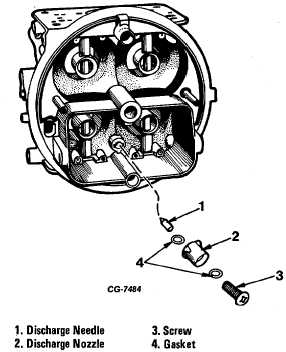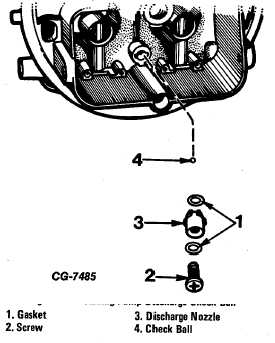 TRUCK SERVICE MANUAL
TM 5-4210-230-14&P-1
REASSEMBLY
15.    Install  the  throttle  operating  shaft  nut,  tighten  securely,
and bend tab on lock washer to retain nut.
Governor Housing
1.  Place the fast idle pin in position in the governor housing.
2.  Insert the fast idle cam plunger spring in the plunger and
install the assembly in the governor housing.
3.    Slide  the  fast  idle  cam  assembly  into  position  and  install
the retainer.
4.      Install   the   governor   bypass   jets   and   the   governor   line
fitting.
Figure 42  Interior View of Governor Housing
5.  Install the governor spring pin in the same hole from which
it was removed if it were removed.
6.  Position the governor diaphragm in the governor housing.
Position   the   diaphragm   properly   to   avoid   damage   by   the
screws.  Install the cover with the screws and tighten securely.
Install new safety wire and a seal.
7.    Place  the  governor  lever  in  the  housing  and  insert  the
diaphragm rod on the stud.  Install the rod retainer.
8.  Housing is installed after the throttle body is assembled to
the main body.
Main Body
1.  Drop the accelerating pump discharge needle into its well
(Fig.  43 governed carburetor).
On nongoverned carburetors drop check ball into its well (Fig.
44 nongoverned carburetor).
2.  Seat the needle with a brass drift and light hammer.  Make
sure the needle is free.
Figure 43  Installing Pump Discharge Needle
3.    Position  the  accelerating  pump  discharge  nozzle  gasket
and  nozzle  in  the  main  body,  then  install  the  retaining  screw
and gasket.
Figure 44  Installing Pump Discharge Check Ball
CGES-125-T  Page 29
PRINTED IN UNITED STATES OF AMERICA