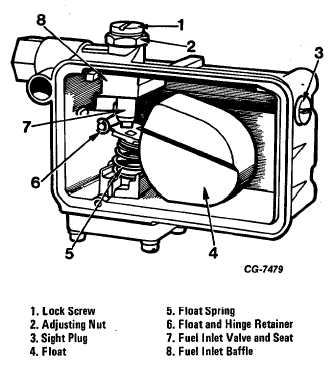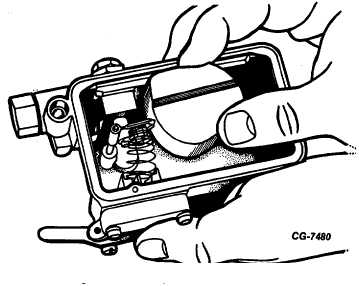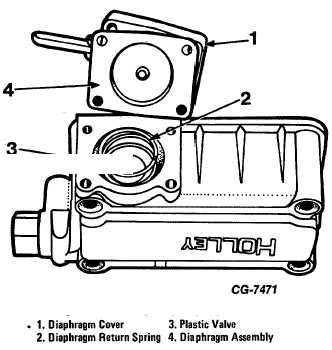 TRUCK SERVICE MANUAL
TM 5-4210-230-14&P-1
DISASSEMBLY
7.  Remove the fuel level adjustment lock screw and gasket.
Turn the adjusting nut counterclockwise and remove the lock
nut   and   gasket.      Remove   the   fuel   inlet   needle   and   seat
assembly.  Do not disassemble the fuel inlet needle and seat.
They    are    matched    assemblies    and    are    replaced    as    an
assembly (Fig.  32).
1.  
Figure 32  Fuel Bowl and Components
8.  Remove the fuel level sight plug and gasket.
9.  Remove the fuel inlet fitting, gasket and filter screen.
Figure 33  Removing Float and Hinge Assembly
10.  Remove the baffle plate from the fuel bowl.
11.  Using needle nose pliers, remove the float retainer (Fig.
33).        Slide    the    float    (noting    color)    off    the    shaft.
Remove the spring from the float.
12.  Remove the four pump diaphragm cover screws.  Lift off
the  pump  diaphragm  cover,  diaphragm  assembly  and
return spring (Fig.  34).  If it is necessary to remove the
accelerator pump synthetic valve (where used), grasp it
firmly and pull it out.  If the valve tip breaks off during
removal, be sure to remove the tip from the fuel bowl.
Removal  of  the  valve  necessitates  replacement  with  a
new valve.
13.    Remove  the  secondary  fuel  bowl  and  gasket  and  the
metering block and gasket.  Discard the gaskets.
14.  Remove the following parts from the secondary metering
block: Using a jet wrench, SE-1772-6, remove the main
jets  (Fig.    31).    Using  a  socket  wrench,  SE-1772-1,
remove   the   power   valve   and   gasket   (where   used).
Discard the gasket.  Remove the idle adjusting needles
and gaskets.  Discard the gaskets (Fig.  31).
15.  Disassemble the secondary fuel bowl by following Steps
7,  8,  9,  10  and  11.    Refer  to  Fig.    28  for  complete
disassembly of fuel bowl and metering block.
CGES-125-T  Page 23
PRINTED IN UNITED STATES OF AMERICA