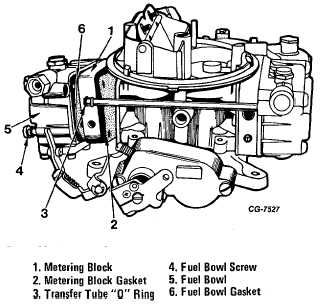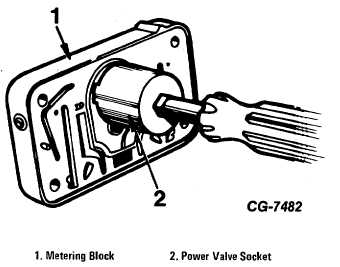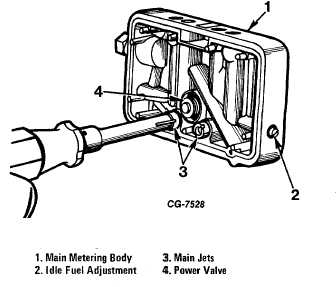 TRUCK SERVICE MANUAL
TM 5-4210-230-14&P-1
DISASSEMBLY
To facilitate working on the carburetor and to prevent
damage  to  the  throttle  plates,  install  bolts  about  2¼"  long  of
the   correct   diameter   through   the   carburetor   retaining   bolt
holes   with   a   nut   above   and   below   the   flange   (or   install
carburetor legs).
Use a separate container for the component parts of
the  various  assemblies  to  facilitate  cleaning,  inspection  and
assembly.
The
following
is
a
step-by-step
sequency
of
operations
for
completely
overhauling
the
carburetor;
however,    certain    components    of    the    carburetor    may    be
serviced    without    disassembling    the    entire    unit.        For    a
complete carburetor overhaul, follow all the steps.  To partially
overhaul  the  carburetor  or  to  install  a  new  gasket  kit,  follow
only the applicable steps.
Fuel Bowls and Metering Blocks
1.
Remove    four    spring    loaded    primary    fuel    bowl
mounting screws (Fig.  29).
2.
Remove  the  primary  fuel  bowl  and  gasket  and  the
metering   block   and   gasket.      Discard   the   gaskets.      Also
remove  fuel  bowl  transfer  tube  and  "O"  rings.    Discard  "O"
rings.
3.
Remove the fuel pump transfer tube and discard the
"O" ring seals (Late Production)
Figure 29 Removal of the Fuel Bowl and Metering Block
(Typical)
4. Using    a    socket    wrench,    SE-1772-1,    remove    the
power valve and gasket (Fig.    30)
Figure 30  Using Socket Wrench SE-1772-1 to Remove
Power Valve
5.    Using  a  jet  wrench,  SE-1772-6,  remove  the  main
jets (Fig.  31).
Figure 31 Using Jet Wrench SE-1772-6 to Remove Main Jets
6.    Remove  the  distributor  vacuum  fitting  or  plug  from  the
metering block (where used).
CGES-125-T  Page 22
PRINTED IN UNITED STATES OF AMERICA