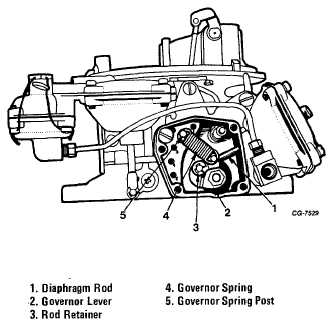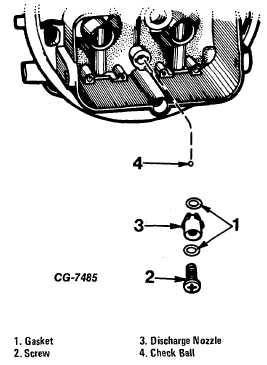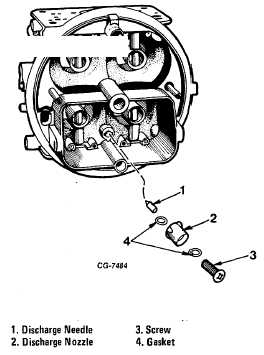 TRUCK SERVICE MANUAL
TM 5-4210-230-14&P-1
DISASSEMBLY
Main Body
1.      Remove   the   air   cleaner   anchor   stud   and   remove   the
secondary control valve tube located between governor
and secondary control valve.
2.  Remove the choke control lever and the governor housing
cover.
3.    Remove  the  nut  and  lock  washer  retaining  the  governor
lever  to  the  throttle  shaft,  then  remove  the  governor
housing assembly (Fig.  35).
4.  Remove the secondary diaphragm link retainer.
Figure 35  Interior View of governor Housing
5.  Invert the carburetor and remove the throttle body to main
body  screws  and  lock  washers.    Lift  off  the  main  body  and
remove the main body gasket.  Discard the gasket.
6.  Remove the retainer securing the choke rod to the choke
rod   lever   and   bushing   assembly,   then   remove   the   lever
retainer and remove the lever and lever spring.
7.    Remove  the  secondary  diaphragm  housing  and  gasket
from the main body.
8.    Remove  the  accelerating  pump  discharge  nozzle  screw,
then lift the pump discharge nozzle and gasket out of the main
body.  Invert the main body and let the discharge ball fall into
the hand (Fig.  36).
Figure 36  Removing Pump Discharge Check Ball

(4150 and
4150C Only)
9.  Models 4150G and 4150EG use a pump discharge needle
in lieu of a ball as shown in Fig.  37.
Figure 37  Removing Pump Discharge Needle (4150G and
4150EG Only
)
CGES-125-T  Page 24
PRINTED IN UNITED STATES OF AMERICA