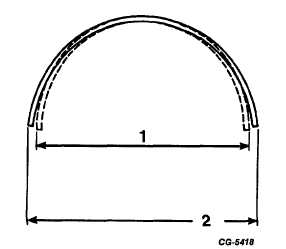 ENGINE DIVISION SERVICE MANUAL
TM 5-4210-230-14&P-1
ENGINE
To  obtain  proper  bearing  assembly  with  the  correct
"crunch,"  care  must  be  taken  when  tightening  the  clamping
bolts and nuts to make sure they are drawn down alternately
and evenly using a tension wrench and tightened as specified.
Rod   caps   or   blocks   must   not   be   filed,   lapped   or
reworked  in  any  other  manner  in  order  to  reduce  clearance.
While such practice may make a tighter fit at top and bottom,
it    will    result    in    an    out-of-round    bore    and    bearing    shell
distortion.
Main and connecting rod bearings are designed with
the "spread" (width across the open ends) slightly larger than
the diameter of the crankcase bore or connecting rod bore into
which they are assembled.  For example, the width across the
rod  bearing  not  in  place  is  approximately  .025"  more  than
when  the  bearing  is  in  position.    This  condition  is  designed
into  the  bearing  to  cause  it  to  spread  outward  at  the  parting
line  when  "crush"  load  is  applied  by  tightening  the  nuts  and
bolts.  Some of this "snap" may be lost in normal use, but the
bearing  need  not  be  replaced  because  of  a  nominal  loss  of
this condition.
This condition causes the bearing to fit snugly in the
respective  bore.    The  bearing  must  be  "snapped"  or  lightly
forced into its seat, Figure 125.
Fig. 125  Illustrating Bearing Spread
1.
O.D. of bearing
2.
Spread of bearing
when installed
before installation
is the same as the
diameter of the
crankshaft or conn.
rod bore.
BEARING SPREAD DIMENSIONS
Bearing O.D.
Specified
Spread of
(Installed)
Spread
Bearing "A"
Fig. 122
Connecting Rod Bearings
2.6245-2.6250
.030-.0305
2.6545-2.6555
Main Bearings
No's 1, 2, 4 & 5
3.3160-3.3152
.0200-.0208
3.336
No.  3 (Thrust)
3.3160-3.3152
.0020-.0168
3.318-3.332
B.  Fitting Main Bearings
To  obtain  an  accurate  reading  using  the  Plastigage
method  of  checking,  all  bearing  caps  must  be  in  place  and
torqued to specifications.
1.
Remove one bearing cap and insert. Remaining caps
are left tight while checking the fit of this bearing.
2.
Wipe   the   oil   from   all   contact   surfaces   such   as
crankshaft journal, bearing insert, bearing caps, etc.
3.
Place   a   piece   of   Plastigage   the   full   width   of   the
bearing surface on the crankshaft journal (or bearing
cap   insert)   approximately   ¼ "   off   center.      Install
bearing  cap  and  tighten  cap  bolt  to  recommended
torque.
NOTE:    Do    not    turn    crankshaft    while    making
check with Plastigage.
4.
Remove bearing cap and insert.
5.
Do   not   disturb   Plastigage.      Using   the   Plastigage
envelope, measure the widest point of the Plastigage,
Figure   126.      This   reading   indicates   the   bearing
clearance in thousandths of an inch.
6.
If  the  bearing  clearance  is  not  within  specifications,
the   crankshaft   must   be   reground   and   underside
bearings installed.
CGES-210  Page 50
PRINTED IN UNITED STATES OF AMERICA