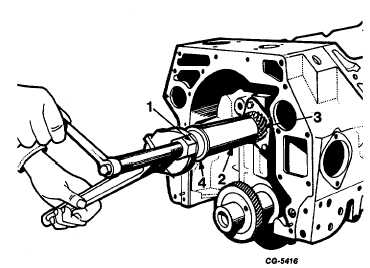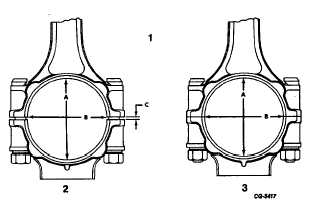 ENGINE DIVISION SERVICE MANUAL
TM 5-4210-230-14&P-1
ENGINE
Fig. 123  Installing Distributor Drive Gear Using SE-1900 Tool
Set with Thrust Bearing
1.
Nut
3.
Distributor drive gear
2.
Sleeve
4.
Thrust bearing
2.
Install  fuel  pump  cam  against  distributor  drive  gear
on camshaft using SE-1900-14 sleeve with SE1900-
16 adapter and thrust bearing in a manner similar to
Step 1.
3.
Install  camshaft  gear  against  fuel  cam  on  camshaft
using  SE-1900-14  sleeve  with  SE-1900-16  adapter
and thrust bearing in a manner similar to step 1.
4.
Install   camshaft   gear   alien   screw   and   torque   to
specified torque.  See "Torque Chart."
Crankshaft Bearings
The bearing inserts used in this engine are selective
fit and require no line reaming upon installation.  The bearings
are available for service in standard and undersizes for use on
journals that have been reground.
If  inspection  revals  badly  worn  or  scored  bearings,
replace the bearings. The installation of new bearings must be
closely checked to maintain the proper clearance between the
journal  and  the  bearing  surface.    A  convenient  and  accurate
method    for    checking    the    clearance    is    with    the    use    of
Plastigage.
A.  General Fitting Procedures
When wear reduces the bearing-tocrankshaft running
clearance,  undersize  precision-type  bearing  shells  should  be
installed.  Premature bearing failure will result from attempts
to  reduce  journal-to-bearing  running  clearances  by  reworking
bearing caps, bearings or both.  Such reworking will alter the
engineered fit of the bearing shells in their bores and destroy
the specifically desired "crush."
When    installing    precision-type    connecting    rod    or
main  bearings,  it  is  important  the  bearing  shells  fit  tightly  in
the  bore.    The  bearing  manufacturer  makes  the  diameter  at
right  angles  to  the  parting  line  slightly  larger  than  the  actual
diameter   of   the   bore   into   which   they   are   assembled   to
accomplish  this.    When  the  assembly  is  drawn  up  tight,  the
bearing  is  compressed  assuring  a  positive  contact  between
the  bearing  back  and  the  bore.    This  increased  diameter  is
referred to as bearing "crush," Figure 124.
Fig. 124  Illustrating Bearing Crush
1.
Difference between
2.
Diameter (A) at
diameters (A) and
right angles to
(B) is bearing
parting lines
crush (C)
greater than dia-
meter (B).
3.
With bearing cap
drawn up tight
diameters (A) and
(B) equal.
CGES-210  Page 49
PRINTED IN UNITED STATES OF AMERICA