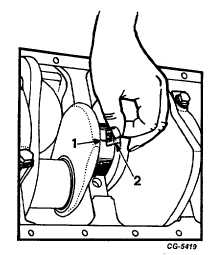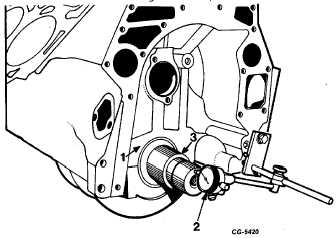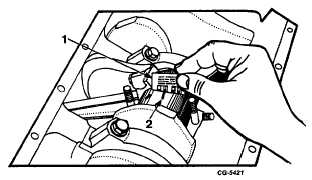 ENGINE DIVISION SERVICE MANUAL
TM 5-4210-230-14&P-1
ENGINE
Fig. 126 Checking Main Bearing Clearance
1.  Plastigage flattened
2.  Gauge
7.
The  third  crankshaft  bearing  controls  the  crankshaft
thrust  and  provides  initial  location  of  the  crankshaft
in  relation  to  the  crankcase.    Use  dial  indicator  to
check end play, Figure 127.
C.  Fitting Connecting Rod Bearings
1
Remove   bearing   cap   and   wipe   oil   from   face   of
bearing   insert-and   exposed   portion   of   crankshaft
journal.
2.
Place  a  piece  of  Plastigage  on  the  bearing  surface
the full width of the bearing about ¼ " off center.
Fig. 127  Checking Crankshaft End Play
1.
Crankcase
3.
Crankshaft
2.
Dial indicator
3.
Install cap and tighten to recommended torque.
NOTE: Do not turn crankshaft while Plastigage is in
place.
4.
Remove   bearing   cap   and   use   Plastigage   scale   to
measure widest point of Plastigage, Figure 128.  This
reading
indicates
the
bearing
clearance
in
thousandths of an inch.
Fig. 128 Checking Connecting Rod Bearing Clearance
1.  Gauge
2.  Plastigage flattened
5.
If  the  bearing  clearance  is  not  within  specifications,
the   crankshaft   must   be   reground   and   undersize
bearings installed.
6.
Check   the   connecting   rod   end   clearance   using   a
feeler   gauge   as   shown   in   Figure   129.      Excessive
clearance may require replacement of rods or shaft.
The   check   should   be   made   to   make   certain   the
specified running clearance exists. Lack of clearance
could indicate a damaged rod or a rod bearing out of
position.
CGES-210  Page 51
PRINTED IN UNITED STATES OF AMERICA