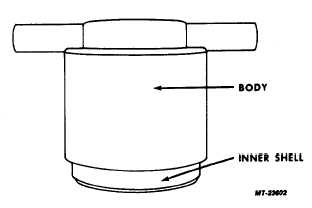 TRUCK SERVICE MANUAL
TM 5-4210-230-14&P-1
HYDRAULIC BRAKE FLUID
As a result of use, brake fluid becomes contaminated
and loses some of its original qualities. It is good practice to
bleed  the  brake  system  until  all  old  fluid  is  removed  when
performing  major  brake  work.    Also,  the  old  fluid  should  be
bled  from  the  system  and  replaced  with  clean  brake  fluid  if
any   of   the   hydraulic   system   parts   are   corroded,   fluid   is
discolored, contains water or is dirty.
If any of the rubber parts of the hydraulic system are
soft  or  swollen,  old  fluid  should  be  removed;  the  hydraulic
system should be flushed with alcohol or clean brake fluid and
refilled  with  brake  fluid.    (All  cups  and  seals  should  also  be
replaced.)  

Do

not

reuse old brake fluid. For type of fluid, refer
to CTS-2412 in your Service Manual under LUBRICATION.
BRAKE GROUPS
1.
Check    linings    for    being    too    thin,    uneven    wear,
damaged,  soiled  with  grease  or  brake  fluid,  or  for
being loose on the shoes.  Whenever brake linings or
blocks are worn to within .79 mm (1/32") of rivets on
light  duty  vehicles  or  1.59  mm  (1/16")  of  rivets  on
medium   or   heavy   duty   vehicles,   the   brake   shoes
must  be  removed  and  relined.    It  is  recommended
that all the brakes be relined at the same time since
this will maintain balanced braking of the vehicle.  If
complete replacement is not desirable or necessary,
be  sure  that  all  lining  on  one  axle  (both  sides)  is
replaced at the same time.
IMPORTANT
Intermixing of various types of lining material other than that
specified is not recommended.
2.
Examine     brake     shoes     for     worn     anchor     ends,
damaged rims or webs, or cracked or broken welds.
3.
Mechanical     parts     should     be     checked     for     heat
damage,   broken   ends   or   loss   of   tension   in   shoe
return  springs,  wear  or  corrosion  of  shoe  hold-down
pins,   springs   and   cups,   wear   on   adjusting   screw,
looseness  of  mounting  or  anchors  and  worn  shoe
ledges on backing plate.
DRUMS
1.     Check brake drums for scores, heat checks,
out-of-roundness and oversize.
2.
Wheel  bearings  should  be  checked  for  wear.  Also,
check   grease   seals   for   evidence   of   grease   leaks.
Refer to WHEEL Service Manual sections.
VACUUM POWER CYLINDER (Hydrovac) AIR CLEANER
Vehicles with vacuum power cylinders, which do not
have a direct air source to the engine air cleaner, will have a
frame  mounted  air  cleaner  (Fig.    4  and  6).    This  air  cleaner
may  be  located  either  on  the  outside  of  the  frame  or  to  the
inside of the frame.
If  this  air  cleaner  is  mounted  on  the  outside  of  the
frame,  it  is  suggested  that  it  be  relocated  inside  the  frame
away from direct road splash from the wheels.
The  location  of  this  air  cleaner  will  be  on  the  left
frame  rail  under  the  cab  in  the  area  adjacent  to  the  power
cylinder.
Maintenance Interval Replaceable Element Type (Fig.  4)
19,000 km (12,000 miles)
Remove  element  and  clean  by  tapping  gently  on  a
flat surface or use low air pressure.  DO NOT WASH OR OIL
DRY ELEMENT.
58,000 km (36,000 miles)
Replace element.
Vehicles  operating  under  multi-stop  or  severe  dust
conditions    will    require    cleaning    or    replacement    of    filter
element more often.
Fig. 4.  Air Cleaner Assembly (Replaceable Element Type)
CTS-2055S  Chapter 1  Page 5
PRINTED IN UNITED STATES OF AMERICA