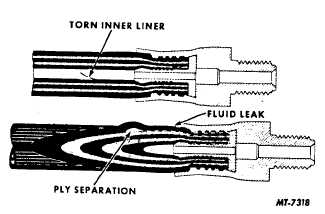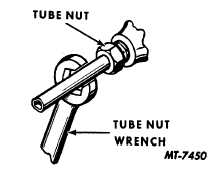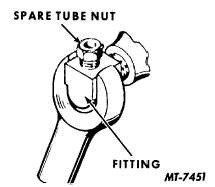 TRUCK SERVICE MANUAL
TM 5-4210-230-14&P-1
4.
Check    cup    clearance    of    compensating    port    by
watching for surge of fluid in reservoir when pedal is
depressed.
5.
Internal  wear  or  leaks  are  indicated  by  pedal  fading
away  under  steady  foot  pressure  (also  sign  of  leak
elsewhere in system).
6.
To   check   residual   check   valve   operation,   depress
and  release  brake  pedal.    Open  bleeder  valve  and
check for spurt of fluid indicating pressure in lines.
STOP LIGHT SWITCH
If  stop  lights  are  inoperative,  it  would  indicate  either
defective bulbs, defective switch, loose or broken connections
or switch improperly positioned.
BRAKE LINES, FITTINGS AND HOSES
1.
Check lines for kinks, dents or rupture.
2.
Check hoses for abrasion, kinks, soft spots, rupture,
collapse, cracks, twists or loose frame supports.
3.
Examine all connections for leaks.
4.
Carefully  check  for  incomplete  ruptures  indicated  by
a  bubble  between  the  plys  of  the  flexible  hose  or  a
torn inner line (Fig.  1).
Fig. 1.  Flexible Hose Damage
5.
Brake  line  fittings  will  sometimes  become  rusted  or
corroded to the wheel cylinder and/or brake line.  Be
careful  not  to  twist  the  line  causing  a  line  fracture
during removal or installation.  Brake line open ends
should  be  capped  to  prevent  the  entrance  of  foreign
material.
Fig. 2.  Use of Tube Nut Wrench
Fig. 3.  Protecting Fitting Against Damage During Removal or
Installation
Always   use   correct   type   and   size   of   wrench   on
fittings (Fig.  2).
Avoid damage to female fittings by supporting fitting
with  a  spare  tube  nut  during  removal  or  installation
(Fig.  3).
6.
Use  only  steel  tubing  when  replacement  is  required.
Use  old  tubing  as  a  pattern  for  forming  and  routing
the new.  Avoid kinks and sharp bends when forming
tube.      Use   tubing   cutter   to   cut   tubing   to   required
length making allowance for flare at each end of the
tube.
Assemble  tube  nuts  on  tubing  before  flaring.  After
flaring tube, blow out with air pressure to remove any
particles of dirt or chips.
Do not discard old tube nuts until you are certain that
new ones are available.
WHEEL CYLINDERS
Pull    back    rubber    boots    and    check    for    leaks.    If
cylinders are disassembled, look for dirt, corrosion or pitting.
CTS-2055S  Chapter 1  Page 4
PRINTED IN UNITED STATES OF AMERICA