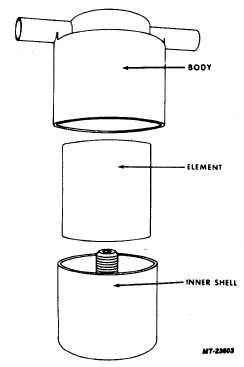 TRUCK SERVICE MANUAL
TM 5-4210-230-14&P-1
Removal and Installation Procedures of Element (Fig.  5)
1.
Turn   inner   shell   counter   clockwise   with   hands   or
suitable size shop tool.
2.
Remove element from shell.
3.
Clean inside of air cleaner body and inner shell.
4.
Clean or replace element.
5.
Position element in inner shell and tighten shell snug.
Then turn inner shell 1/8 additional turn.
Fig. 5.  Exploded View of Replaceable Element Type Air
Cleaner
Maintenance Interval of Throw-Away Type (Fig.  6)
19,000 km (12,000 miles)
Remove  complete  air  cleaner  assembly  and  install
new air cleaner.
Vehicles  operating  under  multi-stop  or  severe  dust
conditions will require replacement more often.
Fig.  6.  Throw-Away Type Air Cleaner Assembly
CAUTION
A vehicle accident could result if the vehicle is
operated while any of the forgoing items need
attention or if any other brake system service
requirements are suspected.
CTS-2055S  Chapter 1  Page 6
PRINTED IN UNITED STATES OF AMERICA