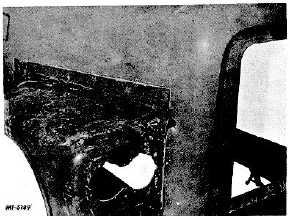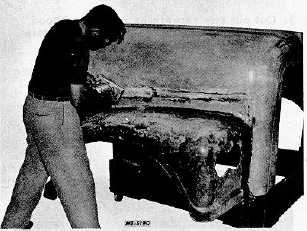 TRUCK SERVICE MANUAL
TM 5-4210-230-14&P-1
BODIES AND CABS
6.
After  clamping  fender  to  hood  on  D-400  series  check
position  of  lower  corner  of  inside  rear  reinforcement
channel.        In    some    cases,    the    rear    reinforcement
channel    corner    will    not    line    up    with    inside    hood
channel.  See Fig. 10.  This is due to slight variations
of  hoods.    To  position  correctly,  cut  off  reinforcement
for reinstallation after fender has been attached.
7.
Drill  holes  from  inside  of  hood  through  fender  flanges
for  installation  of  No.    10  sheet  metal  screws  to  hold
fender in place.  Holes should be spaced 3 to 4" apart.
Observe fender alignment to hood.  See Fig. 11.
Fig. 11   Service Fender Mounting.
8.
Grind  or  buff  all  joining  edges  and  radius  to  normal
thickness  on  cowl  contours.  Blow  off  all  surfaces  and
corners.  Clean with acetone on a soft cloth.
9.
Cut  several  four  inch  strips  of  mat  material  (2"  each
side   of   seam).      Then   on   a   piece   of   polyethylene
position   two   layers   of   mat   saturated   with   the   resin
mixture.   Apply   resin   mixture   to   the   inside   of   hood
where material is being repaired.  When tacky, position
the  strips  (2  layers)  over  seam.    Use  the  polyethylene
to  press  out  air  bubbles.    Allow  to  cure..    Additional
coats of the resin mixture may be applied to the area if
desired.  NOTE: If holes are left where the new fender
may  not  cover  the  damaged  area,  repair  these  places
as outlined in instruction for repairing holes.
10.
Refer   to   item   6.      If   required,   remount   inside   rear
channel
reinforcement
corner.
Grind
edges
and
mounting surfaces for proper bonding.  Apply saturated
sections
of  mat  to  all  edges  and  seam  to  hood  channel.    If
corner  positions  correctly  as  applied  on  fender,  apply
mat   required   to   joining   seam   only.      Brush   out   air
bubbles with a squeegee.
11.
Before   proceeding   on   outside   repairs,   allow   inside
sections  to  harden.    To  speed  drying  or  curing  time,
apply heat with lamps.  No further inside refinishing is
required.  Surfaces may be undersealed.
12.
Grind off outside screw threads holding fender in place
just  below  seam  surface.  Take  grinder  or  sander  and
dish   out   concave   strip   approximately   one   inch   wide
along hood and fender seams.
13.
Apply one four inch strip of mat saturated with the resin
along  concave  hood  and  fender  seams.    Next  apply  a
four inch strip of cloth saturated with the resin mixture
to  the  fender  seams  for  additional  strength.    Use  a
squeegee or polyethylene sheet to force out entrapped
air.  Allow time for assembly to cure.  Trim off any mat
overhang at edges.
14.
Grind   or   sand   all   outside   hood   and   fender   joined
laminated seams.  See Fig. 12
Fig. 12   Service Fender and Hood Refinishing.
15.
With plastic putty fill any existing low spots or surface
cracks  with  plastic  putty.  16.    Sand  the  entire  exterior
smooth, using a #400 grit paper.  See Fig. 12.  Clean
surface  with  acetone  or  lacquer  thinner.  Apply  prime
coat   and   follow   with   standard   automotive   refinishing
procedures. See Fig. 13.
CTS-2408  Page 6
PRINTED IN UNITED STATES OF AMERICA