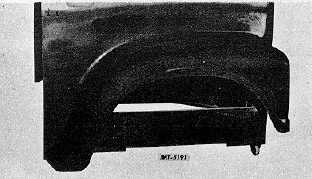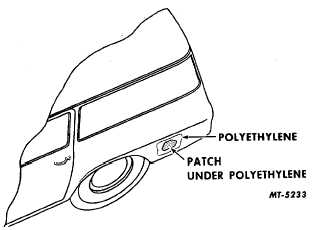 TRUCK SERVICE MANUAL
TM 5-4210-230-14&P-1
BODIES AND CABS
Fig. 13   Repaired Hood and Fender Assembly.
REPAIRING SHEET METAL WITH FIBERGLASS
Small
Holes
(Under
3"
Diameter):
Repair  on  sheet  metal  as  well  as  fiberglass  can  be
made with the fiberglass reinforced plastic repair kit.  It
can   be   used   to   repair   torn   holes,   rust   holes   and
damaged surfaces which are difficult to refinish with the
usual sheet metal repair procedures.
1.
Clean  metal  to  bare  surface  with  No.  16  or  24  grit
sandpaper    approximately    6"    beyond    area    being
repaired.
2.     Indent area being repaired about 2" beyond damaged
area.
3.
Cut  a  piece  of  mat  about  1"  larger  than  the  surface
being  repaired,  then  a  piece  of  cloth  (two  or  three
pieces of mat may be used to fill the indented area).
4.
Brush  the  resin  mixture  on  the  damaged  area  and
then saturate the layers of mat and cloth being used.
Allow the resin mixture to get tacky.
5.
Apply    the    mat    and    cloth    patches,    pressing    the
laminations down tightly with a sheet of polyethylene
to produce a tight bond.  (The cloth patch is installed
last).  See Fig. 14.
Fig. 14
6.     Allow material to cure.
7.
Sand and file surface after patches have cured.
8.
Mix up a plastic putty mixture and fill low areas.
9.     Allow the putty to cure, then sand smooth.
Large
Holes
(Over
3"
Diameter):
1.
Clean   metal   to   bare   surface   and   dent   in   surface
being repaired as in items 1 and 2 for "Small Holes".
2.
On  a  piece  of  polyethylene  position  a  piece  of  cloth
larger  than  hole  being  repaired.    Saturate  with  resin
mixture.  Apply two layers of mat (Fig. 4) saturating
both   with   the   resin   mixture.   Now   place   the   entire
patch on the prepared surface and press on to metal.
See  Fig.  15.    Allow  the  patch  to  cure,  then  peel  off
polyethylene.
Fig. 15
3.
In the resulting low spots, apply plastic putty.  Then
over the putty position another sheet of polyethylene
and squeeze well to remove all air.  When putty has
cured,   remove   polyethylene   and   sand   down   to   a
feather edge.
Dents:
1.  Clean metal to bare surface.
2.    Drill  or  punch  1/8"  holes  in  the  dent  to  assure  a  good
anchor for patch. See Fig. 16.
3.    If  the  dent  is  over  1",  cover  dent  with  piece  of  cloth  and
saturate with resin mixture.  Allow to cure.
CTS-2408  Page 7
PRINTED IN UNITED STATES OF AMERICA