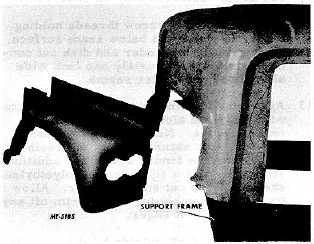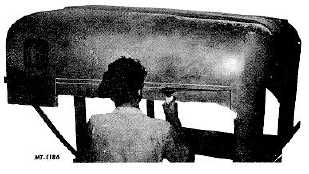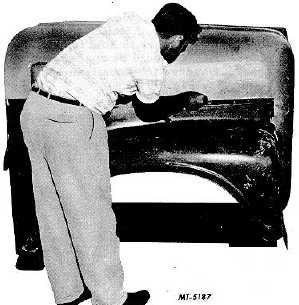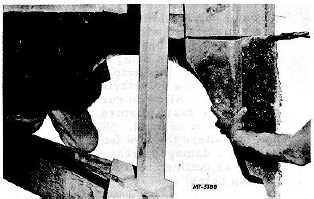 TRUCK SERVICE MANUAL
TM 5-4210-230-14&P-1
BODIES AND CABS
2.
Using  service  fender  for  template,  scribe  line  on  hood
and    remove    remaining    damaged    portion    of    hood
assembly  as  shown  in  Fig.  7.    Maintain  a  straight  cut
on  all  edges.    Before  making  cutout,  measure  down
one  inch  below  scribe  line  to  allow  for  service  fender
flange   overlap   over   hood   for   firm   attachment   base.
See Fig. 8.
Fig. 7  Service Fender and Damaged Hood Assembly.
3.
Cut  out  any  remaining  portion  of  hood  and  fender  in
damaged  area.    Maintain  90°  angles  at  corners.    See
Fig. 8. Recommended cutting tools are disc (carboflex
with masonry blade) or sabre saw with steel blade.
NOTE:   Use   of   face   mask   and   safety   goggles   are
required as protective equipment.
Fig. 8  Service Fender Cutout.
4.
Recheck service fender alignment with cutout.  Special
precautions should be taken to remove all road film or
undercoating
with
acetone.
Stiffener
surfaces
must  be  ground  down  to  service  fender  thickness  to
insure proper bonding.  Grind all surfaces and edges to
be    bonded    down    to    mat    surface.        Use    coarse
sandpaper (A.L.O. 26, 36 or 50 grit).
5.
Secure finder to hood with "C" clamps.  Locate fender
flanges to inside of hood.  See Fig. 9.
Fig. 9  Service Fender Positioning.
Fig. 10 Reinforcement Service Fender Rear.
CTS-2408  Page 5
PRINTED IN UNITED STATES OF AMERICA