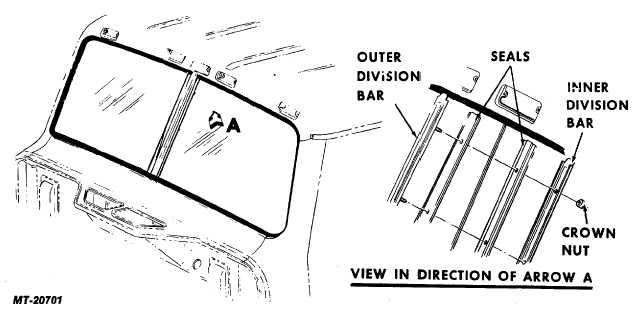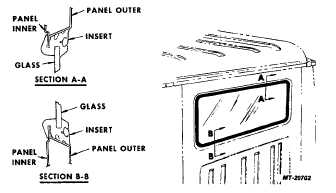 TRUCK SERVICE MANUAL
TM 5-4210-230-14&P-1
BODIES AND CABS
Fig. 33.  Details of Windshield Division Bar (230 cm or 90 Inch Cab Only)
Cab  rear  window  glass  (Fig.  34)  is  secured  in  cab  rear
window  opening  with  a  molded  one  piece  weatherseal  with
integral   insert   similar   to   that   used   for   windshield.      The
weatherseal fits around edge of glass and is so formed, that it
retains the glass in window opening by fitting over the window
opening  flange.    Old  or  deteriorated  weatherseals  should  not
be reused whenever window glass is replaced.
Fig. 34.  Cab Rear Window Glass and Weatherseal
Remove
1.
Pry out integral insert of weatherseal with seal tool or
a  thin  blade  screwdriver  around  entire  perimeter  of
glass.
2.
Working  with  an  assistant,  one  man  inside  cab  and
one man outside, gently push glass from inside out.
3.
Lift glass from opening.
Install
IMPORTANT
Before  installing  new  weatherseal  or  window
glass, body flange and glass must be cleaned
free of dirt, old sealing compound, wax, etc.
1.
Coat   weatherseal   with   a   soapy   solution   or   rubber
lubricant for ease of assembly.
2.
Position  weatherseal  carefully  around  edge  of  rear
window glass opening flange.
3.
Working   from   outside   the   cab   place   rear   window
glass   in   channel   of   weatherseal   starting   at   lower
edge of opening.
4.
With glass completely seated in weatherseal channel
start   working   weatherseal   insert   down   into   groove
provided with seal tool or dull screwdriver.  A second
coat of rubber lubricant will expedite this step.
CTS-2714R  Page 22
PRINTED IN UNITED STATES OF AMERICA