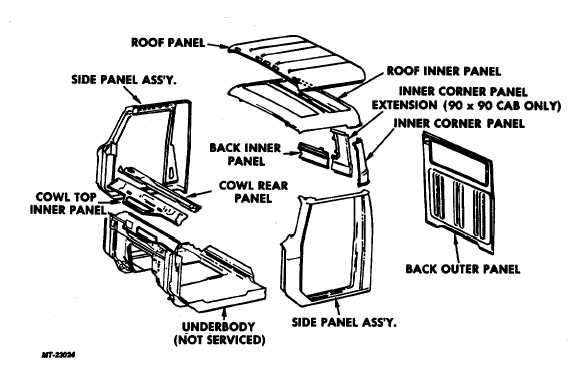 TRUCK SERVICE MANUAL
TM 5-4210-230-14&P-1
BODIES AND CABS
Fig. 35.  S-Series Cab Panels
SHEET METAL REPAIRS
A special feature of the S-Series Cab is the availability of
complete  body  panels  for  repairing  the  cab.    The  types  of
panels available are shown in Fig. 35.  These panels enable a
service   man   to   restore   a   damaged   cab   to   new   condition
without  the  usual  problems  associated  with  cab  rebuilding.
Extensive     metal     refinishing     is     not     required     and     most
restoration welds are in areas of low stress.
SHEET METAL TOOLS
To  perform  the  necessary  cab  sheet  metal  disassembly
and  rebuild  work,  the  special  tools  listed  here  should  be  on
hand.      Most   of   these   are   common   to   any   cab   or   body
rebuilding shop.
1.
Electric or pneumatic drill.
2.
Sheet metal drill bits.
3.
Pneumatic chisel (SE-2664 or SE-2129).
4.
An assortment of C-clamps.
5.
MIG welder (SE-2640).
6.
Weld wire Spec.  No.  E70S-3.
PREPARING CAB FOR PANEL REMOVAL
Before  sheet  metal  repairs  to  cab  can  be  started  some
mechanical work must be performed. This will depend on cab
damage  and  which  panel  is  being  replaced.    Since  the  side
panel (Fig. 36) or door frame is a commonly replaced panel,
let  us  use  the  left  side  panel  replacement  as  an  example  for
what mechanical work is required.  The following items must
be removed:
1.
Left door, seat and interior trim.
2.
Dash pad and instrument panel left side mounting.
3.
Roof and back panel liners.
4.
Left scuff plate and floor mat.
5.
Windshield and rear window glass.
6.
Junction   boxes,   relays,   dimmer   switch,   wiring   harness
and brake piping.
7.
Marker light harness and air horn supply line.
8.
Fuse block, junction block and starter solenoid.
9.
Fuel or air tanks.
10.   Cowl top outer panel.
CTS-2714R  Page 23
PRINTED IN UNITED STATES OF AMERICA