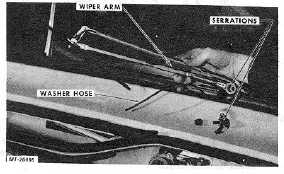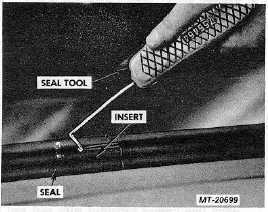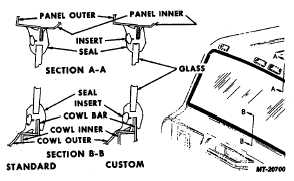 TRUCK SERVICE MANUAL
TM 5-4210-230-14&P-1
BODIES AND CABS
Remove
If   either   windshield   or   weatherseal   must   be   replaced,
procedure is as follows:
1.
Remove washer hose from fittings on top of cowl.
2.
Remove  cap  nut  and  detach  windshield  wiper  arms
(Fig. 30).
For further information on S-Series windshield wipers and
washers see BODIES AND CABS CTS-2732.
Fig. 30.  Removing Windshield Wiper Arms
3.
Pry integral or detached insert from weatherseal with
a  thin  blade  screwdriver  or  sealtool  (SE-2442)  (Fig.
31)  around  entire  glass.  See  Fig.  32  for  details  of
weatherseal.
4.
If   windshield   is   two   piece   type   remove   inner   and
outer division bars and seals (Fig. 33).
Fig. 31.  Removing Windshield Weatherseal Insert
5.
Working with one man outside cab and an assistant
inside apply light pressure on windshield from inside
of cab to push glass from seal.  Be careful during this
operation since heavy pressure at any one point can
lead to glass breakage.
6.
Lift  glass  from  opening  and  peel  weatherseal  from
fence (weld flange).
Fig. 32.  Windshield Weatherseal (Retainer)
Install
IMPORTANT
Before
installing
new
weatherseal
or
windshield,  clean  body  flange  and  glass  free
of dirt, old sealing compound, wax, etc.
1.
Coat   weatherseal   with   a   soapy   solution   or   rubber
lubricant for ease of assembly.
2.
Install
weatherseal
carefully
around
edge
of
windshield  opening  flange.    Position  splice  joint  of
seal ends at centerline of cab and on lower flange.
3.
Working  from  outside  the  cab,  place  windshield  in
channel   of   weatherseal,   starting   at   lower   edge   of
opening.
4.
For two piece type windshield install inner and outer
division bars and seals.  Check seal details (Fig. 33).
5.
Work  weatherseal  insert  (Fig.  31)  down  into  groove
provided around entire weatherseal. Use seal tool or
a dull screwdriver to seat insert in groove.  A second
coat    of    rubber    lubricant    in    groove    will    simplify
installation.
CTS-2714R  Page 21
PRINTED IN UNITED STATES OF AMERICA