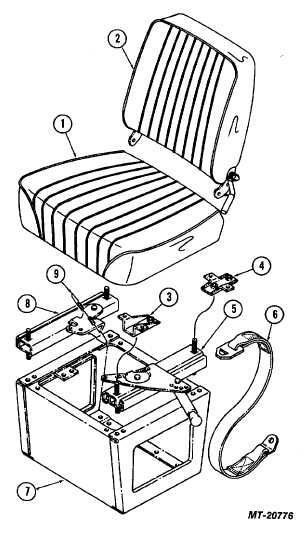 TRUCK SERVICE MANUAL
TM 5-4210-230-14&P-1
BODIES AND CABS
Fig. 29.  Individual Drivers Seat Custom Trim Exploded View
Legend
for
Figure
29
Key
Description
1
Cushion, Seat Assembly
2
Cushion, Back with Support
3
Bracket, Seat Adjuster Front
4
Bracket, Seat Adjuster Rear
5
Adjuster with Handle, Seat Left
6
Belt, Seat
7
Riser, Seat
8
Adjuster, Seat, Right
9
Wire, Seat Adjuster
INDIVIDUAL DRIVERS SEAT (Fig. 29)
Individual  drivers  seats  are  similar  in  construction  to  the
bench   seat   and   have   the   same   adjustment   features   and
mechanisms.  Individual passenger seats however are fixed in
one floor position.
Removal  and  installation  procedures  which  follow  apply
to  both  the  full  width  bench  seat  and  the  individual  drivers
seat.
Remove
1.
Remove   the   four   bolts    which    secure    the    upper
adjuster rails to seat bottom on right and left side and
detach seat and back assembly.  Slide seat fore and
aft as necessary for access to mounting bolts.
2.
Unlock seat adjuster wire between the two rails.
3.
Remove  two  bolts  which  secure  lower  half  of  each
seat  adjuster  to  seat  riser  and  remove  right  and  left
seat adjusters.
4.
Clean seat adjusters as required.  Apply a light coat
of multi-purpose lube (IH 251 HEP) to rails to assure
a   smooth   operation   on   reassembly.      Wipe   away
excess lube.
Install
Seat installation procedure is the reverse of removal.  See
Torque Chart for specified mounting torques.
WINDSHIELD
The windshield used with the S-Series cab is either one or
two piece flat glass type depending on whether cab is the 200
or    230    cm    (80    or    90    inch)    width    model.        A    molded
weatherseal (weatherstrip) with either an integral or detached
insert   fits   perimeter   of   glass   to   retain   glass   in   windshield
opening.    Seam  between  halves  of  two  piece  windshield  is
closed  with  inner  and  outer  division  bars  and  seals.    When
replacing  windshield  always  use  a  new  weatherseal  since  a
used weatherseal is likely to be stretched or deteriorated and
susceptible to leaks.
CTS-2714  Page 20
PRINTED IN UNITED STATES OF AMERICA