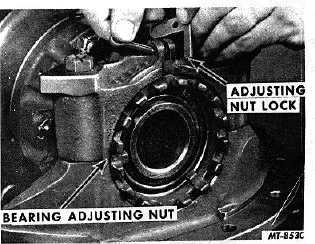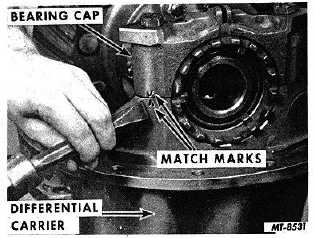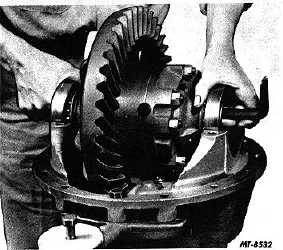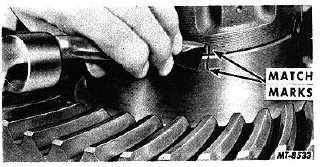 TRUCK SERVICE MANUAL
TM 5-4210-230-14&P-1
force   carrier   from   housing,   in   some   instances   it   may   be
necessary to break carrier loose from axle housing by striking
the carrier with a heavy soft hammer (lead, plastic, rubber or
leather).  Be sure that the differential is securely supported on
a portable floor lift before it is separated from the housing.
DISASSEMBLY
Mount differential assembly in a suitable holding fixture.
Remove Differential and Drive Gear Assembly
1.     Remove  cotter  pins  from  bearing  adjuster  locks
and remove locks from bearing caps, Fig.  9.
Fig.  9  Adjuster Lock Removal
2.     Match mark one differential bearing cap and leg
of carrier with punch or chisel, Fig. 10, to identify
each for correct reassembly.
Fig.  10  Marking Bearing Cap for Identity
3.
Remove  bearing  cap  stud  nuts  or  cap  screws  and
take off the bearing caps and adjusting nuts.
4.
Tip  differential  away  from  pinion  and  lift  assembly
out of the differential housing, Fig.  11.
Fig.  11  Lifting out Differential and Gear Assembly
Disassemble Differential Case and Gear Assembly
1.
Match  mark  differential  case  halves,  Fig.  12,  with  a
punch for correct alignment on reassembling.
Fig.  12  Marking Differential Case Halves
2.
Cut lock wire and remove capscrews or stud nuts to
separate case halves, Fig.13.
NOTE
Some  differential  assemblies  use  self-locking
capscrews and nuts.
3.
Remove    spider,    pinions,    side    gears    and    thrust
washers, Fig. 14.
4.
To  remove  drive  gear  rivets,  carefully  center  punch
each   rivet   head.      Next   use   a   drill   .8   mm   (1/32")
smaller  than  body  of  the  rivet  and  drill  through  rivet
head, Fig. 15.  Use a
CTS-2095S-CHAPTER I-Page 6
PRINTED IN UNITED STATES OF AMERICA