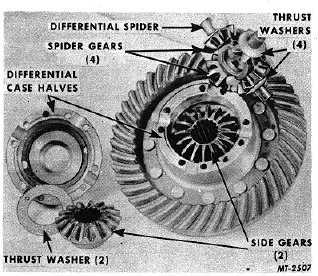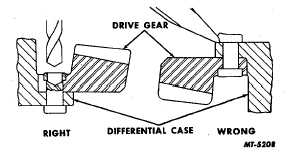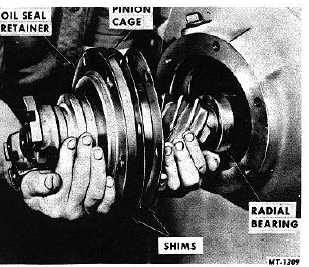 TRUCK SERVICE MANUAL
TM 5-4210-230-14&P-1
punch to press out remaining portion of the rivet.
NOTE
Never   use   chisel   to   cut   off   rivet   heads   or
damage to differential case might result.
Fig.  13  Separating Differential Case Halves
Fig.  14  Component Parts of Differential Case
5.
When   reinstalling   ring   gear,   it   is   suggested   that
Riveting Fixture SE-2222 be used.  This special tool
is     designed     for     use     with     either     hydraulic     or
mechanical   press   equipment.      Rivet   pressures   for
ring  gear  installation  should  be  in  accordance  with
those given in the following chart.
Fig.  15  Drive Gear Rivet Removal
Rivet Size
Pressure Per Rivet
Inch              mm
U.S.  Tons/Metric Tons
7/16
11.1125
18-20
16.3-18.1
1/2
12.7
20-25
18.1-22.7
5/8
15.8750
45-50
40.8-45.3
Remove Pinion and Cage from Differential Housing
There  are  two  methods  for  removing  the  pinion  and
cage  assembly  and  the  method  to  be  used  will  depend  on
whether  puller  screw  holes  have  been  provided  in  the  pinion
cage flange or not.  When no puller screw holes are provided,
removal is as follows:
1.
Remove pinion cage capscrews which hold the cage
to the differential carrier.
2.
Remove     pinion     and     cage     assembly     from     the
differential carrier, Fig. 16.
Fig.  16  Removing Pinion and Cage Assembly
CTS-2095S-CHAPTER I-Page 7
PRINTED IN UNITED STATES OF AMERICA