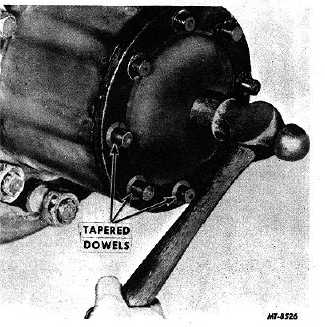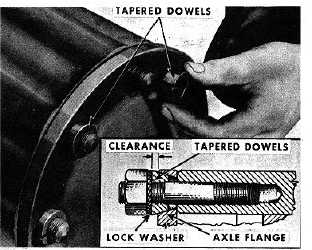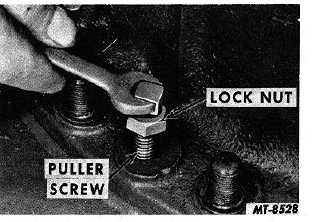 TRUCK SERVICE MANUAL
TM 5-4210-230-14&P-1
4.
Disconnect   propeller   shaft   at   rear   axle   companion
flange.
5.
Support differential on portable floor jack and take off
U-bolts.
6.
Roll out axle from under truck.
Axle Shaft
The axle shafts can be removed without taking off the wheels.
To remove the shafts, first remove the axle shaft nuts from the
studs in the wheel hub.  Next install puller screws in the two
tapped   holes   provided   in   the   axle   shaft   flange.      As   puller
screws are turned in, flange of shaft will be forced away from
wheel hub and out from axle housing.
Another  type  of  axle  shaft  removal  procedure  is  required  on
full
-
floating
axles where the tapered dowel is used in addition
to  the  studs  and  nuts  for  securing  axle  shaft  flange  to  wheel
hub.  This procedure will be similar to the following:
1.
Remove flange nuts from studs of wheel hub.
2.
Using a heavy hammer, strike sharply on the center
of the flange of the axle shaft, Fig. 6, This will unseat
and loosen the tapered dowels in each stud hole.
Fig.  6  Loosening Dowels in Axle Shaft
3.  Remove the tapered dowels, Fig.  7.
NOTE:
When  dowels  are  installed,  there  must  be  a
slight  clearance  between  the  lockwasher  and
axle  shaft  driving  flange.    See  inset,  Fig.    7.
Lack   of   clearance   at   this   point   will   cause
excessive wear on studs, dowels or holes.
Fig.  7  Details of Taper Dowels
4.     After all dowels have been removed, push the axle shaft
flange back into position against the wheel hub and again
strike a sharp blow in the center of the flange as shown in
Fig.  6.  This will cause the axle shaft to spring away from
the wheel hub and allow removal of the axle shaft without
resorting  to  the  use  of  a  pry  bar  or  screwdriver.    Any
prying   between   axle   shaft   flange   and   wheel   hub   may
damage  the  seal  assembly  or  machined  surfaces  of  the
wheel hub or axle shaft flange.
Fig.  8  Puller Screw Installation (Locknut is used if puller
screw is to be kept with axle at all times.)
Differential
To remove the differential on some axles, it may be necessary
to  use  the  two  extra  tapped  holes  found  in  the  differential
housing.    These  are  for  installing  puller  screws,  Fig.    8.    To
CTS-2095S-CHAPTER I-Page 5
PRINTED IN UNITED STATES OF AMERICA