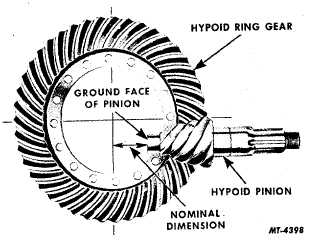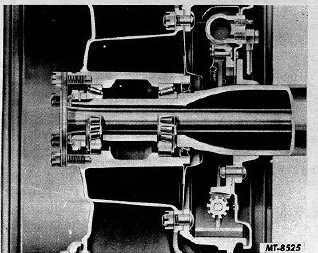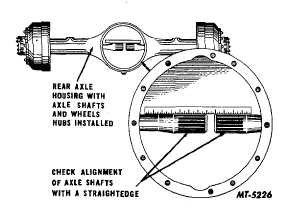 TRUCK SERVICE MANUAL
TM 5-4210-230-14&P-1
hypoid rear axles actually have a greater torque capacity than
do the spiral bevel type.  This is possible because the hypoid
pinion is larger in diameter and has gear teeth that are larger
than those of the spiral bevel pinion having the same number
of  teeth  and  same  diameter  ring  gear.    Hypoid  pinions  also
have larger tooth areas and more teeth in longer contact with
the   ring   gear.      These   design   characteristics   contribute   to
greater  strength  and  quieter  final  drive  operation.    However,
because   of   this   greater   tooth   contact,   more   attention   is
required  when  securing  a  correct  pinion  setting  at  time  of
overhaul  or  when  replacing  differential  bearings.    Therefore,
every effort must be made to be sure the final setting results
in the best possible tooth contact.
Fig.  3  Hypoid Type Drive
Axle Shafts
Many   axle   failures   can   be   attributed   to   the   axle   shafts;
therefore,    it    is    most    important    that    shafts    be    installed
correctly,  be  of  correct  size  and  length  for  splines  to  engage
fully, have wheel bearings adjusted properly, and be kept free
from runout or bends.
Fig.  4 illustrates the axle shaft and bearing arrangement on a
full-floating rear axle.
Axle Housing
In  most  cases  the  axle  housing  used  for  IH  trucks  is  of  one
piece  construction  with  opening  in  center  for  mounting  the
differential and carrier.  The outer ends of the axle housing are
welded  in  place  to  provide  mounting  for  the  brake  backing
plates.    A  bent  axle  housing  can  be  the  cause  of  early  axle
failure, and whenever an axle is rebuilt, this condition should
always  be  checked  before  going  ahead  with  the  assembly.
Fig.  5 gives a quick way of checking for a bent housing.
Fig.  4  Cross Section of Full-Floating Rear Axle
Fig.  5  Method of Checking For Bent Axle Housing
REMOVAL PROCEDURES
Axle Assembly
Whether the complete axle assembly will have to be removed
from the truck for overhaul is determined by the extent of the
repairs  required.    For  most  axle  repairs  complete  removal  of
the  axle  will  not  be  necessary;  but  in  the  event  that  it  is,
removal procedure will be similar to the following:
1.
Jack up truck until load is removed from springs and
place   blocks   under   frame   to   safety   secure   truck
weight off of rear wheels.
2.
Drain differential housing.
3.
Disconnect   brake   lines   and   parking   brake   cables
(where used).
CTS-2095S-CHAPTER I-Page 4
PRINTED IN UNITED STATES OF AMERICA