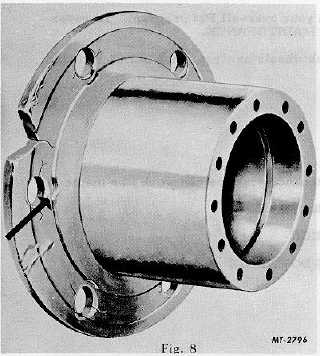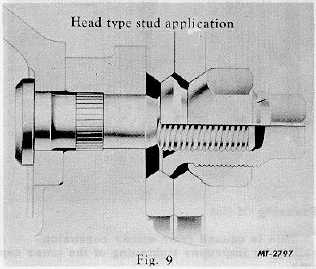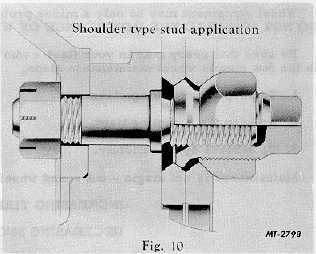 TRUCK SERVICE MANUAL
TM 5-4210-230-14&P-1
WHEELS, RIMS, TIRES
Stud Corrosion
While this problem is not too common, it can occur and
make   it   difficult   to   obtain   accurate'   torque   checks.      When
corroded   studs   are   encountered   thorough   wire   brushing   is
necessary.      If   corrosion   is   excessive,   stud   replacement   is
recommended.      If   corrosion   is   persistent   and   a   definite
problem    is    encountered    with    the    cap    nut    freezing,    the
lubrication of the first three threads of the stud with a graphite
base lubricant will solve this problem.  Care must be taken to
assure that no lubricant gets in the ball seats of the stud holes
or in the ball faces of the cap nuts.   Clean, dry cap nut faces
and nut seats at the wheels is necessary to maintain tight nuts
to specified torque.  DO NOT OIL nut or stud threads except
as stated above.
Worn Stud Grooves
This is a result of improper initial assembly of the stud,
or   from   insufficiently   tightened   cap   nuts.      Either   of   these
conditions allow the shoulder of the stud to work in the groove
and  eventually  wear  the  groove  until  the  stud  will  not  hold,
Fig.  8.
Fig.  8
Use Of Correct Studs
When  it  is  necessary  to  replace  studs  in  a  hub,  it  is
very  important  that  the  correct  stud  is  used.    Fig.    9  and  10
illustrate the correct stud application.
Fig.  9
Fig.  10
CAP NUTS
Worn Ball Faces
This is a result of operating on a loose wheel assembly,
Fig.  11.
CTS-2167N  Page 5
PRINTED IN UNITED STATES OF AMER ICA