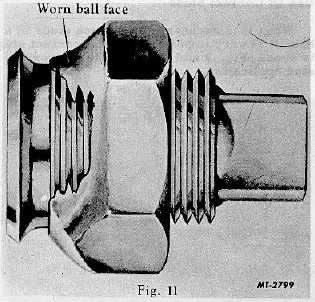 TRUCK SERVICE MANUAL
TM 5-4210-230-14&P-1
WHEELS, RIMS, TIRES
Fig.  11
Freezing Of Nut
This is caused from either corrosion, galling or improper tightening of the inner cap nuts.
TO THE FLEET OPERATOR
Wheel   equipment   may   be   only   a   minor   problem   in   your   over-all   PM   program.      However   -   DO   NOT   MINIMIZE   THE
IMPORTANCE OF WHEEL MAINTENANCE.
Be  sure  that  every  man  in  your  fleet-who  handles  wheels  or  tires-has  been  instructed  in  the  few  simple  wheel  maintenance
steps.
1.  To keep the mounting clean.
2.  To keep the mounting tight.
3.  To service systematically.
Maintenance is not magic-but sound wheel maintenance practice can work like magic in:
INCREASING TIRE MILEAGE
DECREASING SHOP LABOR
REDUCING OPERATING DOWNTIME
CTS-2167N  Page 6
PRINTED IN UNITED STATES OF AMERICA