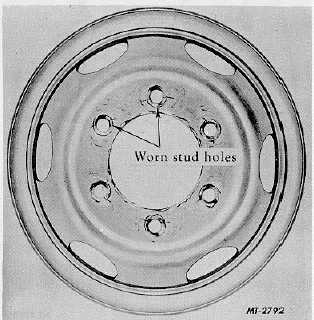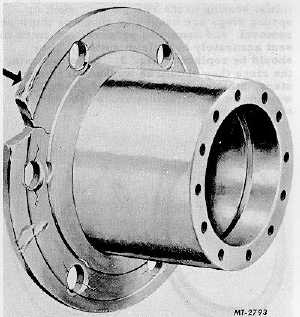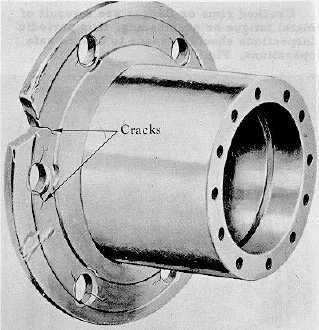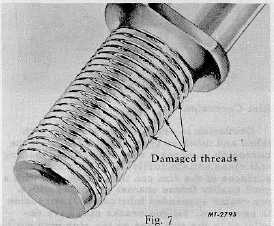 TRUCK SERVICE MANUAL
TM 5-4210-230-14&P-1
WHEELS, RIMS, TIRES
Worn Wheel Stud Holes
This condition will usually be accompanied by evidence
of  a  bright  worn  surface  on  the  wheel  face,  indicating  that
loose  wheels  are  working  against  each  other.    The  wheels
should be replaced, Fig.  4.
Fig.  4
Worn Hub Face
Fig.  5
A  worn  hub  face  is  always  caused  by  running  wheel
assemblies   in   a   loose   condition.      If   the   wear   is   not   too
excessive the hub face can be machined to a flat surface with
the studs removed, otherwise a new hub should be installed,
Fig.  5.
Broken Or Cracked Hub
If the hub barrel or flange is broken or cracked the unit
must be replaced, Fig.  6.
Fig.  6
Broken Or Damaged Studs
Stripped  threads  may  be  due  to  excessive  torquing  of
the studs or when the wheel is placed over the studs, Fig.  7.
Fig.  7
CTS-2167N  Page 4
PRINTED IN UNITED STATES OF AMERICA