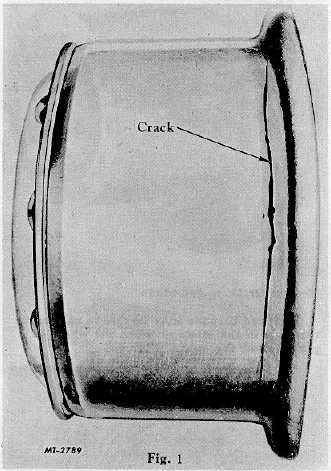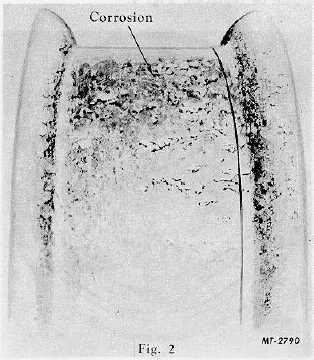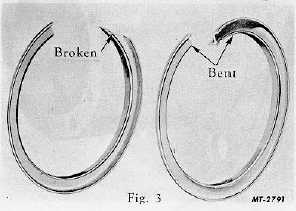 TRUCK SERVICE MANUAL
TM 5-4210-230-14&P-1
WHEELS, RIMS, TIRES
CHAPTER 1-WHEELS, RIMS
Road
failures
are
generally
caused
by
either
overloading  or  oversight  in  the  maintenance  program.    To
save hours of downtime a simple visual check of the following
components should periodically be made.
Cracked Rims
Cracked rims or flanges are a result of metal fatigue or
overloading,   thus   periodic   inspections   should   be   made   to
assure safe operations, Fig.  1.
Fig.  1
Rim Corrosion
Corrosion   is   occasionally   found   on   both   tubed   and
tubeless  type  rims,  Fig.    2.    If  the  corrosion  is  minor  a  wire
brushing or buffing' will clean satisfactorily.  The tire mounting
surfaces  of  the  rim  can  then  be  painted  with  a  good  quality
frame    enamel    or    coated    with    a    non-water    suspended
lubricant.  If corrosion is excessive, fatigue cracks may have
developed in the rim base or the ring may not be
seating   in   the   gutter.      The   wheel   in   this   case   should   be
replaced.
Fig.  2
Damaged Or Cracked Rings
Broken or cracked rings are generally caused by rough
use  of  tire  tools  or  improper  initial  seating  in  the  rim  gutter.
Bent   or   sprung   rings   are   caused   by   rough   or   improper
removal, and cannot be properly reformed to seat accurately
in  the  rim  gutter.    They  should  be  replaced,  Fig.    3.    When
removing the rings they should be worked off in small steps,
starting  at  one  point  and  gradually  working  in  one  direction
around the entire circumference.
Fig.  3
CTS-2167N  Page 3
PRINTED IN UNITED STATES OF AMERICA