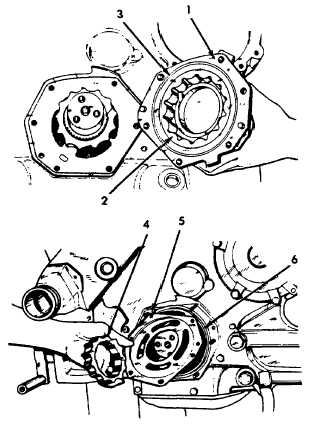 TM5-4210-229-14&P
6-11.  OIL PUMP, FILTERS, AND COOLER MAINTENANCE
This task cover:     a.  Removal
b.  Inspection
c.  Installation
INITIAL SET-UP
Tools
Dial Indicator
General Mechanics Tool Kit
Equipment Condition
Para.  Condition Description
6-7    Vibration Damper Removed
Materials/Parts
Oil Cooler (444612)
Filter (1801090C1)
Oil Pump Service Package (1802666C91)
Filters (675616C91)
Oil Filter Base Gasket (675398C1)
Diesel Fuel (Appendix D, Item 18)
Lubricating Oil (Appendix D, Item 37)
Plastigage (Appendix D, Item 40a)
Cleaning Solvent (Appendix D, Item 54).
REMOVAL
a.  Lubricating oil pump removal.
CAUTION
Whenever the oil pump housing is removed
from the crankcase front cover, be careful
not to mix the six oil pump housing
capscrews with any other hardware.  These
capscrews have a nylon pelIet mounted in
the threads to seal through tapped holes
which go into the oil cavity behind the
crankcase front cover.  Installation of
capscrews not so equipped will
result in oil leaks at these points.  The leaks
will not be obvious until after the engine has
been put back into service.  To prevent the
possible loss of the capscrew sealing
characteristic, the capscrews should not be
used more than two or three times.
(1) Remove the capscrews and washers secur-
ing the pump housing to the front cover.
(2) Remove the pump housing (1) with the
outer rotor (2) and O-ring (3) from the
front cover.
(3) Remove the inner rotor (4), housing plate
(5), and O-ring (6).
(4) Remove the seal washer from the crank-
shaft.
b

.  Oil filter removal.
(1) Before removing filter elements clean the
elements and base with diesel fuel (Appen-
dix D, Item 18).
(2) Disconnect the turbocharger oil supply line
at the filter base.
6-23