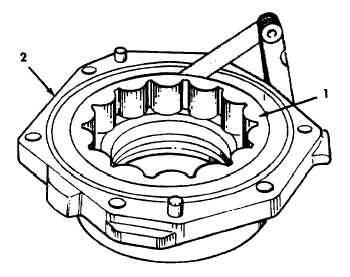 TM5-4210-229-14&P
6-11.  OIL PUMP, FILTERS, AND COOLER MAINTENANCE (Continued).
CAUTION
Whenever the oil filter base is removed from the
crankcase, be careful not to mix the capscrews
with any other hardware.  These special screws
are necessary to prevent oil leaks as one of the
bolt holes connects with an oil pressure gallery.
(4) Remove the filter base with the elements
attached.
(5) Remove base gasket.
c

.  Oil cooler removal.
(1) Remove four screws securing the cooler to
the crankcase.
(2) Remove the cooler by pulling towards the
rear of the engine.
INSPECTION
Compressed air used for cleaning or drying
can create airborne particles that may enter
the eyes.  Pressure shall not exceed 30 psi
(206 kPa).  Wearing of goggles is required to
avoid injury to personnel.
Cleaning solvent (Appendix D, Item 54) is both
toxic and flammable.  Keep off skin.  Use only
in  a  well-ventilated  area  and  avoid  prolonged
breathing  of  vapors.    Keep  away  from  open
flames.
a.  Wash all parts with solvent (Appendix D, Item
54) and dry with compressed air.
b.  Visually inspect the oil pump rotors, housing,
and housing plate for nicks, burrs, and scoring.
CAUTION
The inner and outer rotors are a matched set
and cannot be replaced separately.
c.  Check the radial clearance between the outer
rotor (1) and the pump housing (2) with a feeler
gauge.  The limits 0.0055 to 0.0095 inch (0.140
to 0.241 mm) must be maintained.
6-24
WARNING