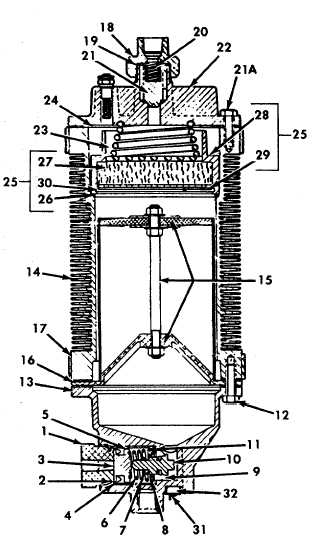 TM 5-4210-229-14&P
5-21.
AIR DRYER REPAIR (Continued).
g.
Install unloader sleeve (5) in unloader port
against the seat ring (9).  Be sure the 1/2 inch
(12.7 mm) diameter cross hole is next to the seat
ring (9).
h.
Position large spring (6) in the sleeve (5) with
large diameter coil against seat ring (9).
i.
Insert unloader piston (3) into unloader sleeve
(5).  Lips of U-cup (4) must face out with spring
seat toward spring.
NOTE
The  unloader  spindle  (1)  and  seat  ring  (9)  is  a
mated
assembly
and
should
not
be
disassembled.         The   entire   mated   assembly
must be replaced as an assembly.
j.
Insert a 1/2 inch (12.7 mm) diameter rod or
equivalent through the exhaust port in the bot-
tom cap (13) and into the cross hole of sleeve (5)
to maintain alignment.
NOTE
If the cross holes are not aligned, the unit will
not operate.
Overtightening of the unloader nut will result in
damage to the unloader assembly.
k.
Apply a sealing compound (Appendix D, Item
27) to thread of the unloader valve nut (1) and
install the nut.  Tighten nut to 60 ft-lb (81 N.m)
maintaining the alignment of the cross holes of
sleeve (5).
l.
Remove the alignment rod.
m.   Assemble stainless steel filter (27) in filter cup
(28).  Filter should be stretched slightly to fill
the space in the filter cup.
n.
Reinstall strainer (29) with flat face of strainer
towards stainless steel filter (27).
o.
Install V-spring (30) holding filter assembly
together.
p.
Install new packing ring (26) on ledge of body
(14).
5-52